When an elderly family member has a hospital stay, it can be a stressful and scary situation. This is especially true if the stay happens unexpectedly when the family member is away from home.
Read Valerie Howard's firsthand thoughts on the care her mother, Geri McVety, received from Mercy Health after an accidental fall while she was out of town.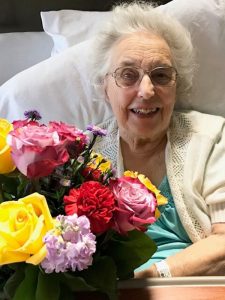 On August 12, 2020, my 90-year-old mother missed a step on a deck and fell while in town visiting our family. She was taken by squad to Mercy Health – Fairfield Hospital, the closest hospital.
Once there, they quickly confirmed my mother broke her hip. She underwent surgery the next day and had a partial hip replacement where they replaced the ball of her femur with a titanium one.
When my mother was admitted to the hospital, I was concerned as any daughter would be. But being a registered nurse made me even more concerned. I've seen many times when an elderly person falls, gets pneumonia or an infection during their hospital stay and things spiral downhill from there.
However, I was very impressed with my mother's experience at Fairfield Hospital. From the ambulance ride, to the emergency room, to her floor in 4 Tower, to the rehabilitation unit, she received excellent care. The hospital exceeded my expectations.
Additionally, the entire care team, from the physicians to the housekeeping staff, were friendly and helpful. They all went out of their way to be kind and accommodating.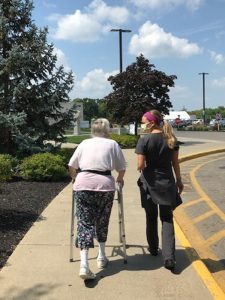 My mother survived polio as a child, which resulted in her strong-willed and independent personality. While in the rehabilitation unit, she tended to get a little ahead of herself. The therapists on that floor did a great job of guiding her and calmly reigning her in from time to time. I know it was the combination of the great care she received as well as her determination that brought such good results from this unfortunate accident.
Once my mother was discharged from Fairfield Hospital, I drove her back to her condo in Michigan. She is getting along quite well and is continuing her rehab from home through an agency. She also has in-home care, a young woman, who luckily already lived with my mom before her fall. All is well.
Also, fun fact, my daughter, Amber Robbins, is a registered nurse at Fairfield Hospital! She works weekends and went up to her grandmother's floor during her shifts to say hello (using COVID-19 precautions, of course). Amber had this statement to add regarding the care her grandmother received.
"Even though there is added stress to health care right now due to the COVID-19 pandemic, I had faith and trust in Mercy Fairfield to care for my grandma. Having to be hospitalized, especially when you're away from home, is potentially very stressful. However, my coworkers stepped up to make her as comfortable as possible. They made me so proud!"
Learn more about the hip replacement treatment options we offer at Mercy Health.