Jen Grooms was happily surprised to find herself expecting a baby in September 2019. Although she and her husband Brandon hadn't planned the pregnancy, the entire family was excited to welcome their new family member.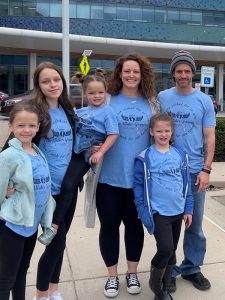 Jen watched shock sweep across the faces of her four daughters as blue balloons escaped from a box at a fun gender reveal event. A little boy – Doc Allister Grooms – would be joining the family in the spring.
"Walking around with one hand on my belly was like a badge of honor," she says. "Everything seemed right in the world. On January 6, I went to an ultrasound. I was so excited to take my mom and my youngest daughter to hear and see our little Doc."
That happiness changed to heartbreak in a moment.
"The ultrasound tech whispered, 'I can't find a heartbeat. I'm so sorry,'" recalls Jen.
Jen was 20 weeks pregnant when she learned that Doc had died. The next day, she delivered her beloved son with her husband, mother and sister by her side.
"We spent the next couple of hours with our son trying to fit a lifetime of memories into what little precious time we had," Jen recalls.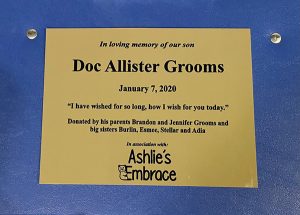 Typically, stillborn infants are separated from their parents and placed in a cool mortuary environment soon after birth. This can increase the trauma of parents already grieving a terrible loss.
Jen and Brandon are close friends with a couple who delivered a full-term, stillborn son. These friends introduced them to Ashlie's Embrace, an Ohio-based non-profit organization that provides CuddleCots to hospitals and medical centers across the country.
CuddleCots are cooling systems that fit inside cots and bassinets. They make it possible for stillborn babies to stay with their families longer and can help families cope with the death of their baby.
"We knew it was what we wanted to donate in memory of Doc," says Jen. "So many people's lives are affected by stillbirth. Ashlie's Embrace makes these times a little easier by providing families more time with their babies, thanks to the Cuddle Cot."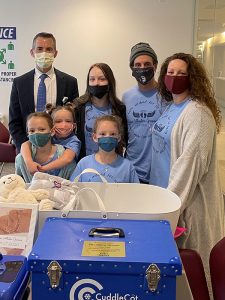 With help from generous donors, Mercy Health's family birthing centers at Anderson Hospital and Fairfield Hospital have CuddleCots available for parents to use. Unfortunately, Anderson Hospital's CuddleCot was out for repair when Jen gave birth. Jen and Brandon opted to donate the CuddleCot for which they raised money to the family birthing center at West Hospital so that each of Mercy Health's family birthing centers in the Cincinnati area now have this valuable resource to offer parents.
Jen, Brandon, their daughters and Doc's grandparents attended the donation ceremony on March 26. Above all else, Jen wants parents going to through this same experience to know that they are not alone.
"I don't want anyone to feel there's something wrong with them and that other people don't feel their pain. When they see the CuddleCot we donated in Doc's name, maybe they will think 'Here's someone who knows how I feel and was able to provide me with more time,'" says Jen.
"Until I was in that spot where I had to bury my child, it was a pain I couldn't understand," she adds. "I don't only want to memorialize my child. I want to memorialize theirs as well. That's really important to me. I want to do something every single year in memory of Doc to help mothers and fathers who've been through what we've been through."
Learn more about the maternity care services we offer at Mercy Health.