This is surely a summer to remember. One like no other. We all want to get out and enjoy typical summer activities including vacations, swimming and family barbecues. However, the COVID-19 pandemic has many of us questioning which activities are safe for us and our families to enjoy right now.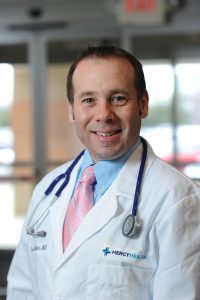 Erich Walder, MD, a critical care specialist with Mercy Health Physicians – Cincinnati, offers the following guidance.
Dining out
Outdoor dining on a beautiful summer day or evening can be one of life's pleasures. While Dr. Walder doesn't feel safe about indoor dining at this time, he shares that outdoor dining can be enjoyed. However, this is with some conditions.
"If staff were not wearing masks, were not socially distancing to the best of their ability or if the tables were not six feet apart, I would leave," he says. "That being said, I have only ventured out once to eat. I have not eaten indoors and feel uncomfortable doing so given the increasing cases of COVID-19 in Cincinnati."
Indoor activities
For some, it's hard to avoid some good retail therapy. However, this summer try to go to stores only for items you need versus items you want.
For example, Dr. Walder goes shopping "as long as it is a defined trip for something I need. No window shopping for this doctor. I limit my exposure in the retail store and always wear a mask."
Similarly, Dr. Walder would avoid any indoor religious services at this time.
Summer camps
Dr. Walder cautions against summer camp.
"Kids inherently do a poor job with masking, social distancing and hygiene. I feel they are a potential vector in spreading COVID-19 to older, more susceptible adults with possible disastrous outcomes. We have seen this already in our intensive care unit," he shares.
Campgrounds and traveling
Enjoying the great outdoors is a viable option for some fun this summer. However, there are some simple precautions you should take.
"I would camp provided the campsites were spread out. I would be more comfortable with a national or state park campsite than a private one with many campsites one after another," says Dr. Walder.
Dr. Walder would also consider traveling out of state, but for him "it would depend on the state's prevalence of COVID-19 and the Governor's management strategy with the virus. I would definitely avoid California, Texas, Arizona, Florida, South Carolina and North Carolina right now."
What about overnight stays in hotels or home rentals?
"I am okay with this in general but once again, the local prevalence of disease would ultimately guide my decision," he says.
Swimming activities
"If handled correctly, public swimming pools are a potentially viable activity," Dr. Walder advises. "I would only frequent a pool that has removed all the community chairs and adheres to a strict reservation system to control capacity to allow for social distancing. I would not hesitate to leave if people are not employing reasonable measures to prevent spread of COVID-19."
Dr. Walder would consider visiting public beaches too, as long as they aren't too crowded.
"I would seek a less popular beach that has plenty of space, so people can spread out. 'Off the beaten path vacations' is my mantra this summer. I would not go to iconic places such as Myrtle Beach, Destin, or Daytona Beach."
Stay updated on what Mercy Health is doing related to COVID-19.