Jared Depner was among 20 members of the Ohio National Guard Joint Task Force who recently joined our clinical and support services teams at Mercy Health – St. Vincent Medical Center to help care for our patients during the most challenging phase of the COVID-19 pandemic.
Jared is a senior applied health science major at Bowling Green State University (BGSU) with plans to apply to medical school. He was kind enough to share his firsthand thoughts about his time with our ministry, the work he was able to assist with and how this experience has changed his perspective on health care.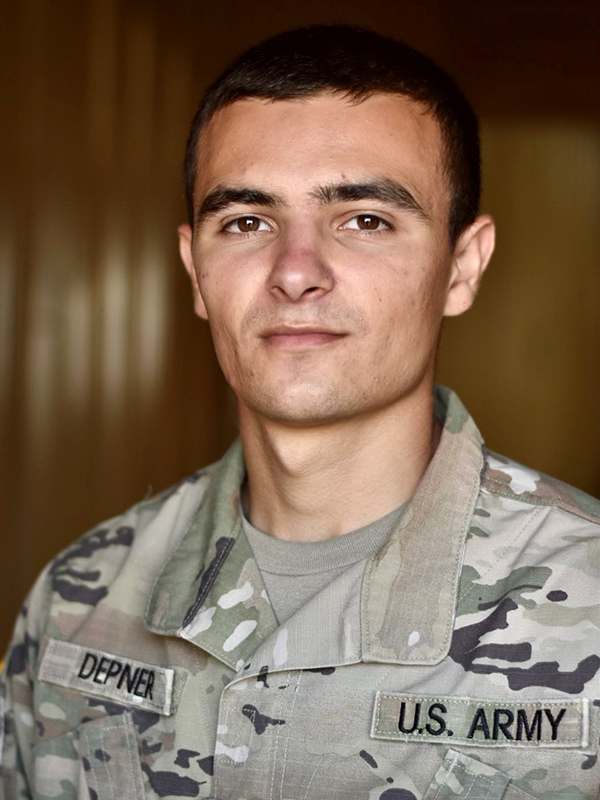 "I had an amazing experience at St. Vincent Medical Center working as a nurse's aide on the COVID step-down unit for most of my time there. The staff took us in and treated us like family right from the start. We were there to provide direct assistance to nurses and nurse's aides. Daily tasks consisted of taking vitals, blood sugars, proning (turning a patient from their back onto their stomach) and patient care. Though it may not be much, it took a major workload off the shoulders of the nurses.
I learned a lot on this mission in aiding St. Vincent, which has ranged from using equipment to patient care. I asked a lot of questions, and the nurses were always very helpful and willing to teach us anything they knew.
I worked with many nurses at St. Vincent who taught me a lot. Working in a clinical setting is a lot different from what most of us are used to, so helping us acclimate to that environment and showing us the ropes made us better at our jobs and pushed us to the next level of being a medic. I saw a lot of things that I thought I wouldn't see until later in my career.
Prior to coming to the hospital, I really had no idea what these nurses and doctors had to deal with on a daily basis. They deal with a lot more than you would think. Some nights, nurses would have a larger workload than usual. As time went on, I think that us being there helped a lot. Our main goal was to boost morale and help in any way possible to relieve some of the stress that was put onto the staff.
I definitely have a different perspective on COVID-19 after working at St. Vincent as well. Working on the frontlines and seeing what this virus does and how it acts really puts life into perspective. COVID-19 is a very real thing and something we will continue to battle in the future.
To those that may not know why the Ohio National Guard was activated to assist at St. Vincent, you can only do so much with the staffing you have. In my case, I was there to assist nurses and nurse's aides in tasks, allowing nurses to do more of the priority care for patients. There were also National Guardsmen that were there to assist in more of the background work, such as janitorial work and patient transport, which is just as important.
I loved my time at St. Vincent Medical Center and would most definitely work there on the civilian side. It is a great hospital that cares about their patients. I'm grateful for the opportunity we were given and happy to serve the Toledo community."
Thank you to all of the Ohio National Guard members, like Jared, who recently assisted at our hospitals. Stay updated on what Mercy Health is doing related to COVID-19.