"Darryl shouldn't be here," Trish Pickett, Darryl's wife, shares. "If you look at his medical records and his situation, he shouldn't be here. And he would not be here if we had not gone to Lourdes Hospital. I firmly believe that."
Both Darryl and Trish (pictured above with their family) had come down with COVID-19. Under the guidance of their doctor, they were at home taking care of themselves.
"Darryl did not want to go to hospital," Trish recalls. "When we went to doctor to get treatment and a diagnosis, Darryl asked me if I realized that this can go south fast."
And unfortunately for Darryl, it did.
"Darryl had been getting sicker for a week and it got to where he couldn't breathe," Trish says. "As sick as he was, I asked where he wanted to go. He said, 'Lourdes' without hesitation. I had been there for several days in 2017, and we were very impressed with the care."
Darryl was admitted to the intensive care unit (ICU) at Mercy Health – Lourdes Hospital on Aug. 19, 2021. He would be hospitalized for nearly three weeks before he was discharged to a long-term care facility for physical rehabilitation.
"He was a very sick man," Trish explains. "I believe that God placed the nursing staff, especially Val, exactly where they needed to be to save his life. Everything they did was centered around making sure that he lived. I can't say enough about Val's clinical experience. She's very wise and intuitive about what patients need. She knew what to do to make him comfortable. She even calmed me down and talked me off the ledge when his lung collapsed."
The Val that Trish is praising is Val Millis, a critical care nurse who was part of the care team looking after Darryl in the ICU.
"He ended up having to be intubated shortly after he arrived in the ICU and was on a vent for two weeks," Val shares. "Darryl was on very high vent settings and very high sedation. We weren't sure he was going to survive."
The actions that Darryl's nurses took left an impression on Trish.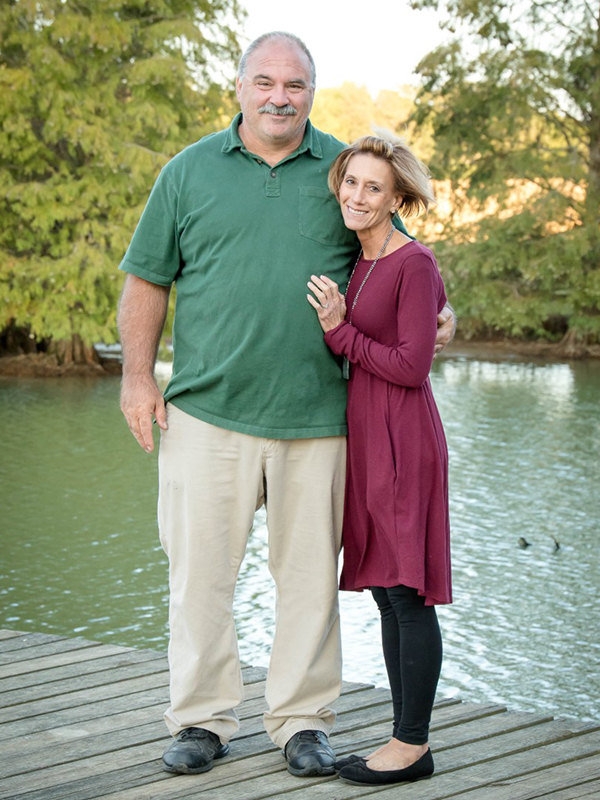 "The nursing staff at the Lourdes Hospital ICU was phenomenal. They not only cared for Darryl's body and his soul while he was there, but they also cared for my family as well," she says. "Because he had COVID, we weren't allowed in the ICU and we couldn't see him. What the nurses did was amazing. They put our names on boards so when they talked with Darryl, they could use our names and give him that will to live. I believe those were the little things that made a difference in his outcome. It was not an easy journey, but the nursing staff made it livable."
Another invaluable action was that Darryl's care team held phone conferences three times a day with his family.
"They held calls with me and our two adult children. Often, the kids had questions I might not think about. They kept us informed, answered all our questions and didn't get frustrated," Trish says.
"After two weeks on a vent, we pulled Darryl's tube," Val says. "He was so weak that he couldn't even put his thumbs up."
"It was terrifying and encouraging when they took him off ventilator," Trish adds. "We stood outside the window with all the medical staff. When Darryl was extubated, they cried and cheered. I thank God for them. I prayed not only for Darryl but also for the people in our community and the nurses at Lourdes Hospital. I still do. They didn't have to care for us like they did, but they did."
Darryl celebrated his 57th birthday five months to the day he went on a ventilator.
"I just can't believe how good God is," Trish shares. "We owe Him all the glory. He gives knowledge and wisdom, and He gave it to doctors and nurses to heal Darryl's body. Today, Darryl is back at work and has been dismissed from physical therapy. Every day I tell him several times, 'I'm so glad you're here.' Several people in our community did not have the same outcome as Darryl's. It's sobering and I'm grateful and thankful for the Lourdes Hospital ICU."
Trish has maintained the relationships she formed with Darryl's ICU nurses.
"We will continue to go back to the hospital and take snacks," Trish says. "The nurses don't always have a break and I appreciate the care they gave my husband by not doing those things. We get as much out of it as they do. I am in their debt forever. Every one of those people care and I believe strongly that people need to realize what a valuable institution we have in Lourdes Hospital."
For nurse Val, seeing Darryl's progress has been the ultimate reward.
"When he came to visit, he walked all the way back to the unit," Val shares. "He's truly a miracle."
Learn more about COVID-19 as well as all the health care services we offer at Mercy Health.