When Shelby Monaco learned she was going to be put on a ventilator to help her battle a severe case of COVID-19, she began texting her family how much she loved them along with her goodbyes.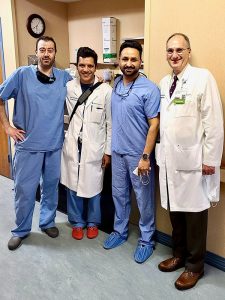 "Obviously I was very frightened. I was prepared to die. I didn't think I would be coming off the tube, so it was very scary," she shares.
The treatment the 30-year-old Tiffin resident had received thus far had been ineffective and her family was kept informed of how poorly she was doing. That is until the Mercy Health – St. Vincent Medical Center care team approached Shelby's family about her going on ECMO.
Extracorporeal membrane oxygenation (ECMO) is a technique used to oxygenate the blood outside of the body. Although the technology has been available for decades, the specialized program needed to offer this sort of treatment on a long-term patient was just recently assembled at St. Vincent Medical Center, where Shelby was receiving her care.
Daniel DiBardino, MD, chief of cardiothoracic surgery and a medical director for ECMO services, shares that Shelby was an excellent candidate for ECMO because she was relatively healthy prior to being infected with COVID-19. Once Dr. DiBardino and others decided to proceed, the team moved quickly to provide this life-saving treatment.
ECMO involves not only the appropriate equipment but also a highly specialized team (pictured above and left) that is trained to monitor the treatment 24 hours a day. It takes the burden of oxygenating blood off the lungs, giving them time to heal.
For Shelby, Dr. DiBardino cannulated the large veins in her legs and so began the process of removing her blood. The blood is circulated through the ECMO machine to oxygenate it before returning the now oxygenated blood back into her body.
"You just never think it's going to happen to your family," Stephanie Pachlhofer, Shelby's sister, shares. "One day she was having difficulty breathing so we told her to get to the ER. They transported her right to St. Vincent's and just that fast, from that night until the next morning, she messages that they're putting her on the ventilator. And at that point, your whole world just shatters."
Stephanie continues, "they took X-rays of her lungs and they were so bad. I remember them telling us they could hardly see through them. So, they put her on the vent. And then, that's when the doctors told us about the ECMO procedure. … Once she was on ECMO she never took a step back. It was all moving forward. She's strong and she did it. The ECMO, that's what saved her life."
As Shelby got better, the team was able to gradually decrease the amount of support her lungs required from the ECMO machine. Eventually, she was removed from the machine and able to breathe on her own. After several more days in the hospital, Shelby was discharged home.
Shelby acknowledges that she had not been vaccinated against COVID-19 prior to falling ill. She said it was simply a matter of not making the time to do so.
"I was just one of those people that never made time for it, so my advice would be if you're planning on getting the vaccine and you haven't it would be wise to not drag your feet and get it," Shelby shares. "Obviously nobody thinks that what I went through could happen to them, but the truth is that that could have been anyone lying in that hospital bed."
In her follow up appointments, Shelby has been recovering well.
James Tita, DO, St. Vincent chief medical officer, a critical care pulmonologist and a medical director of ECMO services, shares that while COVID-19 patients aren't the only ones that benefit from the ECMO program, they have certainly become a top priority. ECMO has been utilized on occasion previously as bridge therapy to transfer patients to an ECMO center. However, with the development of this new program, these patients will no longer have to leave the area.
"What we've done is actually assemble the team of highly trained individuals and now offer a program where we can provide those highly specialized ECMO services to local patients that require that level of care," Dr. Tita shares.
Learn about the health care services we offer at Mercy Health.
Also, a reminder that getting vaccinated for COVID-19 is the best way you can avoid severe illness and protect those around you. Learn what some of our Mercy Health providers have to share regarding the COVID-19 vaccines.