Kara Overstake, 23, had been back home for a week after a Fourth of July trip to Florida with friends when she started feeling sick.
"I thought I had a sinus infection. My sinuses ached and I had a headache as well as a fever, just like a normal sinus infection," Kara shares. "It started getting worse and my grandmother said that if it I still had a temperature in a few days, I needed to go to the doctor."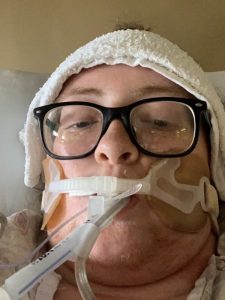 Kara did feel worse and the doctor gave her an emergency COVID-19 test since she'd been out of state. The test came back positive.
Kara was told to quarantine for 14 days and thought she'd start to feel better soon. However, by the fourth day of quarantine, her condition deteriorated and she felt like she couldn't breathe.
On July 18, Kara went to Mercy Health – Mt. Orab Medical Center for help. That visit marked the start of what would be a 33-day medical odyssey.
"They said my oxygen was low and put me on five liters of air," Kara recalls. "When my oxygen still wasn't going up, they bumped it to nine. They did a chest X-ray and saw that I had pneumonia, too."
From there, Kara was transported and admitted to Mercy Health – Clermont Hospital.
"I don't remember much after that. I only remember half of the ambulance ride. Apparently, I called everyone and told them I was going to be on a ventilator. I don't remember the calls or being told that. I woke up in the hospital more than confused."
Because of visitor restrictions, Kara's care team arranged for her to video chat with her family. She says she doesn't remember those conversations either.
On her ninth day in the hospital, Kara was intubated for the first time to help her breathe. At one point, it seemed like she could come off the ventilator. However, she was intubated again for another seven days when she developed stridor, a condition that causes wheezing due to disrupted airflow.
Once off the ventilator, Kara's vocal cords were so swollen, she couldn't talk. Her ear, nose and throat doctor put her on vocal rest for four days to heal.
Eventually, Kara started making progress. She was moved from the intensive care unit to the progressive care unit, and finally to Mercy Health – Anderson Hospital Acute Inpatient Rehabilitation Unit for an intense program of physical rehabilitation.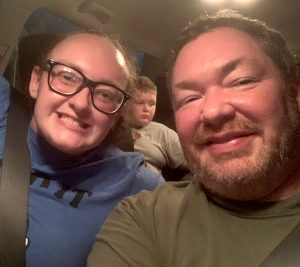 "Because of how long I'd been bedridden, I lost all my strength," Kara says. "I was having trouble with picking stuff up, bending over and taking small steps. They add a little more each day you are there and worked with me on getting my strength back."
After a week of care in the inpatient rehab unit, Kara left the hospital for home on Aug. 20, 2021. She has a special message for her Mercy Health caregivers.
"I want to say a big thank you to all the nurses and doctors being able to take care of anyone who comes in with this illness. They care about people and want you to get better."
Kara continues to attend outpatient rehab and is looking forward to returning to work once she has the strength to do so.
"Before I had COVID, I was perfectly fine and able to do everything by myself. I worked every day. I'm surprised this has taken a full month out of my life," Kara says. "My little brother had COVID and he only had a headache, was tired and that was it. I was in the ICU, in the hospital 33 days and intubated twice."
Even though Kara's grandmother and father had their COVID-19 vaccines, Kara had hesitated based on things she'd heard about potential side effects. Now, after her experience, Kara and her little brother will be getting their shots as soon as their doctors give them the OK. Also, lots of Kara's friends and family members got vaccinated after seeing the effect the virus had on her.
"It's taking someone that they know getting it extremely bad to say, 'I need to get it,'" Kara shares. "Some people are thinking COVID isn't real. It's definitely a real thing. I'd say if you are vaccinated or not and going out in public, practice social distancing and wear your face mask. Be careful out there."
Getting vaccinated for COVID-19 is the best way you can avoid severe illness and protect those around you. Learn what some of our Mercy Health providers have to share regarding the COVID-19 vaccines.