When Ms. Lorine Young, 85, became the first patient in Paducah, Ky. to undergo a new artery-clearing procedure, she had a veritable army of prayer warriors working on her behalf.
"The whole hospital knows me, and they were praying for me," Ms. Young says. "People in Paducah were praying for me. People I didn't know went to church were praying for me. All up and down this hospital hall, people who had never talked with me were praying for me. I've never seen anything like it."
Ms. Young is a beloved figure in this area of western Kentucky for her shaved ice shop where no child is turned away, regardless of their ability to pay. She is also known for the annual Aug. 8 street dance complete with DJ that she hosts to mark Paducah's Emancipation Day celebration.
The prayers, combined with an innovative new medical technology administered by her care team, worked!
Ms. Young had heavily calcified arteries after plaque in her arteries had hardened and become bone-like. Her body was struggling to supply her heart with the blood, oxygen and nutrients it needs through the narrowed arteries. She was experiencing chest pain, called angina, and shortness of breath as a result.
"I was hurting all the time in spurts," she says. "As long as they were giving me medicine, I felt OK, but when they would reduce the drops of nitroglycerin, the pain would return. I'd come down with a hard hurting in my heart, down the front part of my chest bone. I knew I shouldn't be hurting like this. Something was wrong."
Ms. Young decided to come to Mercy Health – Lourdes Hospital to find some answers.
"I said I have to stay until I find out what's going on with my body," Ms. Young recalls.
Ms. Young's cardiologist, Timothy McDermott, MD, conducted tests to determine what was happening and made sure his patient was comfortable.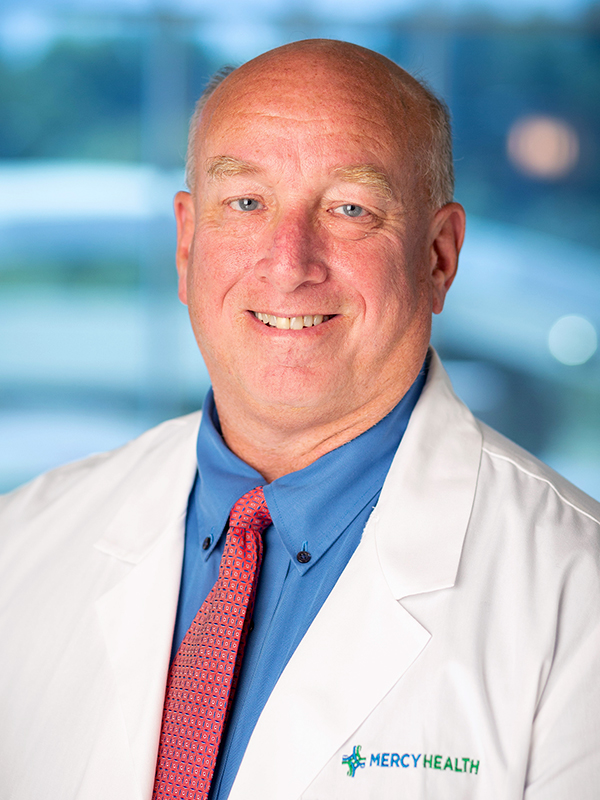 "Dr. McDermott is a doctor who pays attention to details," Ms. Young says. "During the tests, the doctor showed me how humble he was. He grabbed my arm and knelt beside me. That test was something to experience. To see your heart beating … I could see the blockage. I just remained calm because Dr. McDermott was right there kneeling beside me and explaining what they were doing as they went."
The testing found the blocked arteries. Afterward, Dr. McDermott talked Ms. Young through her treatment options.
"A traditional treatment like balloon angioplasty, in which we inflate a small balloon in the artery to crack the plaque, may not open the arteries in cases like Ms. Young's where the plaque has hardened. Another option is a procedure called atherectomy, where we drill through hardened calcium, but it carries a risk of tearing a hole in the artery," Dr. McDermott shares.
"He told me unless we could undo the blocked arteries, I would always have a problem and it was possible that I could have a heart attack," Ms. Young says. "That's when Dr. McDermott decided to ask me to consider the shockwave. After that night, I hurt so bad, my mind was made up."
Coronary shockwave is a minimally invasive artery-clearing procedure that takes less than an hour to complete in the cath lab with patients under light sedation. It was approved in February 2021 and became available at Lourdes Hospital shortly before Dr. McDermott performed the first procedure on Ms. Young on Dec. 13, 2021.
"Coronary shockwave uses innovative technology called intravascular lithotripsy to clear heavily calcified arteries," Dr. McDermott explains. "It is an adaptation of the sonic pressure wave therapy that doctors have used for decades to break up kidney stones without damaging tissue."
Dr. McDermott threaded the new shockwave balloon from Ms. Young's radial artery in her wrist to the blocked circumflex artery. There, the balloon emitted sonic pressure waves, also known as shockwaves, that fractured the calcified plaque without damaging the artery.
"Once we cracked the plaque, we cleared it and placed stents there to keep Ms. Young's arteries open and restore her blood flow," he says.
Following the procedure, Ms. Young's chest pain was gone.
"I really feel well. I haven't had any pain. It's gone," she said the day after her procedure. "All I'm taking now is a medicine for reflux but no pain medicine at all. I can go home and run my own house in a few days."
As she prepared to leave the hospital for home after an overnight stay, she had this advice for people who may be experiencing a health struggle.
"I would tell them to place their trust in the Lord. Get you some prayer warriors and pray and seek the Lord. I asked the Lord to guide and strengthen me. Believe in yourself and believe that your prayers are good, but let Him know that you just want Him to help you."
February is American Heart Month. Learn about the cardiology services we offer at Mercy Health.