Garrett Chester has been a long-term patient at Mercy Health – Children's Hospital not once, but twice. The 17-year-old was born needing NICU care. Then, 10 years later, he was diagnosed with cancer.
Today, Garrett is thriving and has many hobbies, including football. Read a few firsthand thoughts from his mother, Melissa, about Garrett's journey and what their family is thankful for this holiday season.
This fall our son, Garrett, played in a football game. Not just any game, but in the Final Four of Division III High School Football. It was a big deal for our small community of Tiffin, OH. For the first time in school history our football team won regionals. And although we did not win in the semi-finals, this was a momentous win for our family – especially for our Garrett.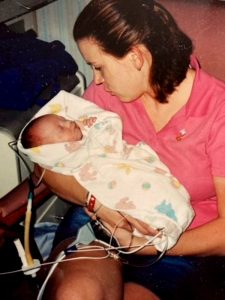 Garrett's health journey started back in July 2003. Despite intensive prenatal care, Garrett was born with undiagnosed gastroschisis. His intestines were on the outside of his body. Immediately, he was flown to Mercy Health – Children's Hospital. He spent 30 days there in the NICU, underwent surgery to fix his defect, and learned how to eat. The nurses also supported us and taught us how to advocate for our son.
Despite this birth defect – Garrett thrived! He spent the next 10 years living a typical childhood. He excelled in school, loved playing sports and had a great group of friends. He had normal bouts of sickness but no lasting effects from the gastroschisis.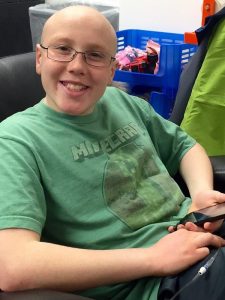 Then on Dec 18, 2014, Garrett was diagnosed with Nodular Sclerosis Hodgkin's Lymphoma. We found ourselves back at Mercy Health – Children's Hospital once again. Garrett started showing symptoms almost immediately, so the week of Christmas was spent staging. He underwent his first PET scan, a full CT scan, ECHO and pulmonary testing. Then, the Monday after Christmas, Garrett had surgery to place the chemo port and a bone marrow biopsy.
All the testing indicated that Garrett was in stage 2A. His first round of chemo was on January 2, 2015 and last round was in June 2015. Since then, we've spent the last six years seeing Mercy Health doctors and nurses – first monthly, then quarterly, and now every six months. Garrett continues to undergo testing to watch for reoccurrences and monitor for long-term side effects.
Right after he finished his chemo, we were told that if Garrett could get five years of remission under his belt, signs would be truly positive. It felt like we were counting down the days until this time, his junior year of high school.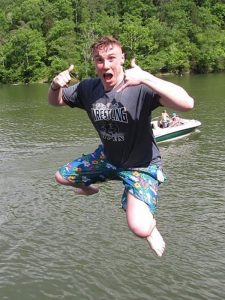 The beginning of Garrett's treatment was under Dr. Rama Jasty-Rao. Later, we met Dr. Zaher Naji and Dr. Melisa Mullins. Dr. Ramalinga Reddy also consulted with the pulmonary side of things. These doctors, along with the nurses, social workers, lab techs and other team members who helped with Garrett's treatments have played a huge role in who Garrett has become today. They all played a part in getting Garrett (and quite honestly his Mom and Dad) to where we were watching his big football game recently!
This little boy was born with all his intestines outside his body and was healed by the grace of God as well as Mercy Health doctors and nurses. Ten years later, he beat cancer with the dedication of his health care providers. Today this happy teenager excels in school; he plays center for his football team, wrestles and is on the throwing team for track and field. He is kindhearted, a loving brother, a true friend and involved in his church.
We are thankful for all those who helped us through the trials that Garrett has faced: God, our family, our friends, our community and Mercy Health providers. All of them helped us at our worst times to conquer our worst fears. Today our son is a happy, healthy 17-year-old. That is what we are most thankful for.
Learn more about the health care services we offer at Mercy Health and find a provider near you.