Lydia Harper was about three and a half years old when her family noticed that she wasn't handling school very well. The little girl seemed to keep to herself instead of playing with other children. She also wasn't talking.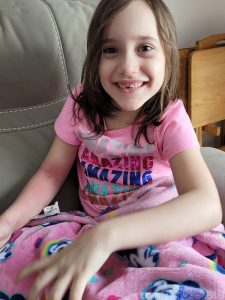 Lydia's parents, Beth and Dan, knew that Lydia needed some extra help.
At the urging of her pediatrician, Lydia was referred for behavioral testing and was diagnosed with Autism spectrum disorder (ASD) and Attention-deficit/hyperactivity disorder (ADHD). A year later, Beth found out there was an opening at the Mercy Health – Children's Hospital Autism Services Center.
This summer, Lydia – now seven – will graduate from the program.
"I think the most significant change we have noticed is, while Lydia is still considered non-verbal, her speech and communication skills have improved tremendously," Dan says. "Her ability to convey her wants, needs, and emotions have increased at an outstanding rate. It really gives us hope for her future."
"The program has given her amazing progress," Beth adds. "The staff is just amazing. They help with anything you need; any questions you have; they will help you through it."
ASD is a developmental disorder that affects the way people communicate with others and interact with the world. Our Children's Hospital Autism Services program in Toledo, OH has been a leader in autism services since 2004. We are proud to provide applied behavior analysis (ABA), speech therapy, occupational therapy, and mental health counseling to children with autism from the earliest age of diagnosis through six years old.
When Lydia first started going to Mercy Health, she would have one-on-one therapy sessions for a few hours a couple of days a week. This past year, she went every day – just like school.
ABA is the only evidence-based intervention for the treatment of autism, with the most optimal outcomes seen with early, intensive ABA. Most children in our autism services program receive 35 hours of ABA per week, supplemented by speech and occupational therapy.
"The treatment we are providing to children with autism is life-changing," says Alexis Eggenberger, manager of our autism services. "Lydia has improved immensely in the years she's been with us. By identifying her delays and enrolling her in a treatment program, Lydia's parents have impacted her life on a significant level."
And Lydia's parents have been so pleased to see her successful emotional growth. Lydia still has trouble playing with others and it continues to be a focus for her family. However, her parents are excited to see where her next chapter will bring her.
April is Autism Awareness Month. Above all, Dan and Beth want others to know that they should never be afraid to ask for help or seek advice. It was by doing both that Lydia was able to get the support she needed.
"There are several things a parent must understand, first and foremost, there is nothing wrong with your child. They are just different and that is okay," Dan says." Your life and your child's life will be different than those who have neurotypical children. There will be many ups and downs, but in the end, they are your child and you love them just the same. Secondly, seek out all the help and resources you can find. There are many resources for parents."
"As parents, we must learn to take care of ourselves," Dan adds. "…Being parents to children with ASD can be all-consuming and leave you little time for yourself. However, you must find time for yourself even if it is a fraction of the time you wish it could be. This can be a great benefit to your mental well-being and have a great effect on the happiness and growth of your child."
The Harpers share that their journey with Lydia and ASD has been a learning experience for their entire family. They know that Lydia will continue to grow and succeed. Her graduation from the Mercy Health program is simply bringing on a new beginning.
Learn more about the pediatric care services we offer at Mercy Health.