March is National Cerebral Palsy Awareness Month! To celebrate and bring awareness to others, we'd like to introduce you to one of our patients, Teddy Christie.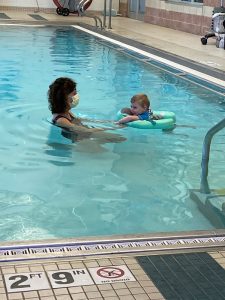 Hear firsthand from his mother, Jamie, about her son's cerebral palsy diagnosis and the treatment he has been receiving at Mercy Health – Children's Hospital.
Teddy was born four months early at 24 weeks. He spent 115 days in the NICU at Mercy Children's Hospital in Toledo, OH.
Two days after birth, Teddy had a brain bleed that resulted in left sided hemiplegia and cerebral palsy. It's one of the many complications and diagnosis he has received in his two years of life. We knew that early intervention is key not only for children with cerebral palsy, but any developmental delay.
Teddy received physical therapy during his NICU stay and has continued since coming home. Today, Teddy has physical, occupational, speech and aquatic therapy. His determination to move along with all the care, tools and early intervention we've received from his many doctors and therapists have allowed him to make great gains in progress in his motor skills.
We are so thankful for Mercy Children's Hospital's doctors, nurses, respiratory therapists, and therapists!
Learn more about the different health care services we provide at Mercy Health.