Celebrate Childhood Cancer Awareness Month and learn about Jaxson's cancer journey with Mercy Health.
Jaxson Ferguson is a typical 4-year-old. He loves Batman, Paw Patrol, and keeping up with his older brother. Jaxson is also very caring, always happy, and super outgoing. Just looking at him, you would never know he went through a battle with cancer.
"He has been one strong little man during this whole thing," says his mother, Ashley.
Jaxson's journey began in November 2018 when Ashley noticed a lump on the right side of his neck. Jaxson's pediatrician didn't think it was anything abnormal, but Ashley continued to monitor it. The day before New Year's Eve, Jaxson's lump suddenly doubled in size. Ashley took Jaxson to the ER at Mercy Health – Children's Hospital in Toledo, where they met Dr. Afser Shariff.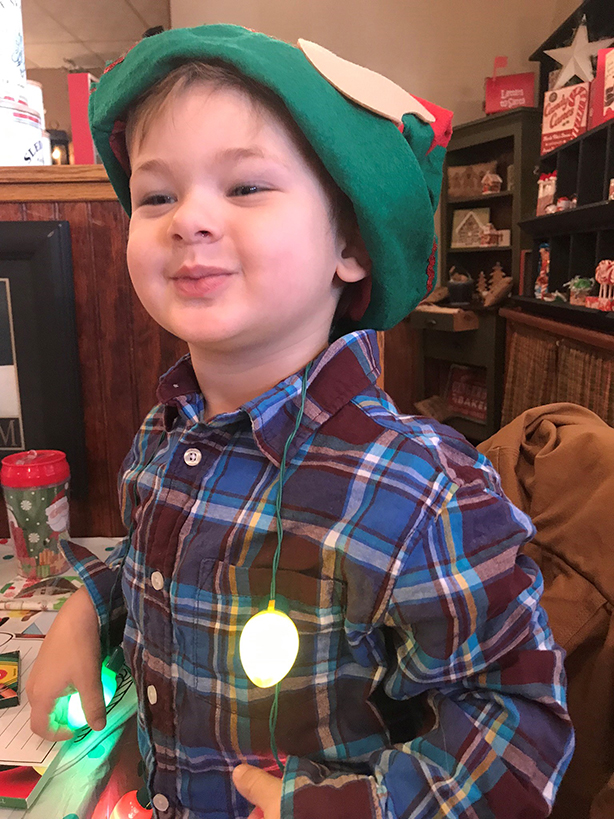 After determining Jaxson's lump needed to be removed, surgery was promptly scheduled with Dr. Shariff at Mercy Health – St. Vincent Hospital. Jaxson's surgery went very well, and his cyst ended up being 2.5 inches. While Jaxson stayed overnight after his surgery, he barely took any pain medicine, and was up playing with his brother when the staff came in to take out his drain.
"You could not keep that kid in bed," Ashley chuckles as she reminisces.
The family went home, and Jaxson seemed back to his normal self. However, four weeks later, Dr. Shariff called wanting to see Jaxson again. During their appointment, they learned further testing on Jaxson's cyst revealed it was cancerous. Dr. Shariff immediately referred Jaxson to Dr. Melisa Mullins, a pediatric hematologist/oncologist at Mercy Health- Children's Hospital.
"Jaxson was diagnosed with synovial sarcoma, which is a very rare type of cancer," says Ashley. "In fact, out of all childhood cancer patients, only 5 percent of them get this type. And of that 5 percent, only 1 percent of the patients have it on their neck like Jaxson."
When Dr. Mullins met Jaxson, she couldn't believe his energy level.
"Dr. Mullins would always say she couldn't believe Jaxson had cancer the way he was acting," Ashley says and laughs.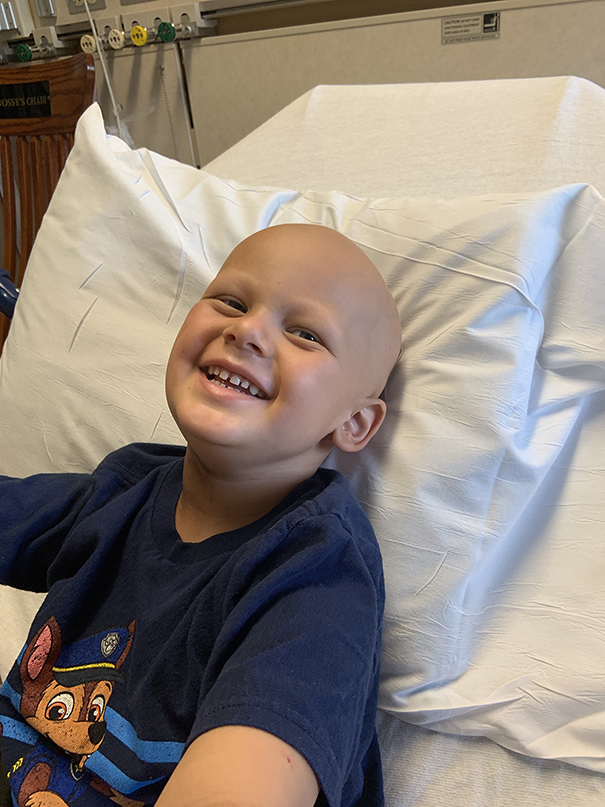 Within a week of diagnosis, seven rounds of chemotherapy every three weeks was the treatment plan put into place. In April, Jaxson headed to Cleveland for radiation as well. On August 4 of this year, Jaxson went into remission. So far, all his scans are clean, and his blood levels have been good for the most part.
"We were very blessed to have the team that was handed to us at Mercy Children's Hospital," says Ashley. "We always felt welcomed and loved."
Ashley recalls one day when Jaxson was in the hospital and all he wanted was tomato soup. One of his nurses overheard and brought him the can she had brought in for lunch. Jaxson's care team also celebrated with him during his final chemotherapy appointment.
"We only had 21 weeks of treatment, much better than some kids," says Ashley.
As for families currently going through a battle with childhood cancer, Ashley has this advice.
"Never give up. The future might seem grim, but you don't know what it holds. Also, when a nurse tells you to take a break, trust them and go. You will thank them because sometimes you just need those minutes to yourself."
Visit Mercy.com to learn more about us and our healthcare services.