Julie Thomas wasn't expecting to spend the next 83 days in the hospital.
As a seasoned nurse practitioner and educator, Julie had spent her day working as normal. That night she headed to bed with a headache. It wasn't until her husband, Greg, went to bed that he found Julie on the floor in the bathroom, unresponsive.
Greg immediately called the paramedics and when EMS showed up, they recognized the urgency for treatment. They called Life Flight, who would then transport Julie to Mercy Health – St. Vincent Medical Center for care.
Julie later learned that she had suffered from a blister aneurysm – a rare form of a brain aneurysm accounting for less than 2 percent of all intracranial aneurysms.
While Julie was in the intensive care unit (ICU), she also experienced a stroke, affecting her left hand and arm, and foot drop in her right foot. With a previous diagnosis of multiple sclerosis in 2011 that impacted the right side of her body, both sides of Julie's body were now affected.
Xin Sean Xin, DO, and Osama Zaidat, MD, both endovascular neurosurgeons, performed various life-saving neurological surgeries on Julie. Greg remembers being prepared for the worst-case scenario, given her critical condition.
However, it turns out that Julie beat all odds. Dr. Zaidat even coined her the name "the little miracle."
"I don't think we can say enough positive things about Julie's care," Greg says. "There was a resident physician in the ICU who would take the time to talk to me and give me a layman's version of what was being discussed with Julie's care."
After the long 83-day hospital stay with rehabilitation, Julie was able to go home where she continued to build her strength. She did this through a combination of in-home therapy followed by comprehensive outpatient rehabilitation and therapy.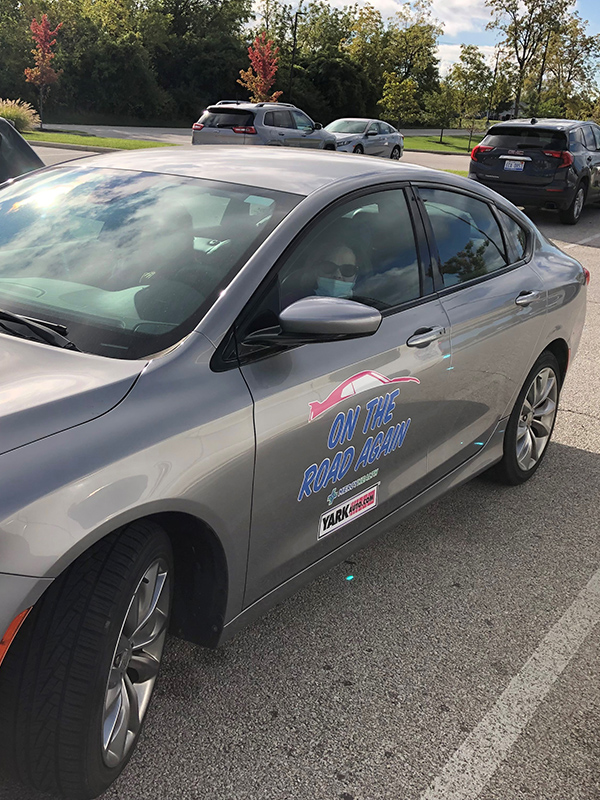 The driver evaluation has two components: the clinical assessment of vision, perception, cognition and physical function, and the on-road evaluation in the program's modified vehicle. The simulations improved Julie's perception, cognition and physical abilities, which made it possible to transition to on-road driving.
"I have weakness in my right foot from my foot drop and vision spatial impairments from my stroke," Julie explains. "The program is helping me learn to accommodate for those impairments driving. I drove with my occupational therapist, Lynne Chapman, a lot. Lynne would observe my driving performance and provide physical intervention and verbal cueing as needed. She is very positive and has helped me to pursue my overall goal of driving independently again."
Julie is feeling great again and can drive during therapy with steering wheel modifications. She's looking forward to the next step of completing the driving rehabilitation program to regain her independence as a driver.
This holiday season, we are celebrating by spreading the good news! Read more thankful stories, like this one, that feature our team members, patients and the wonderful communities we are blessed to serve.
Also, learn about the neurology and neurosurgery services we provide at Mercy Health.