Sports, specifically soccer, have been a part of Jack Drabenstott's life for as long as he can remember. Soccer is his favorite way to spend time and the best way for him to take his mind off school and life stresses.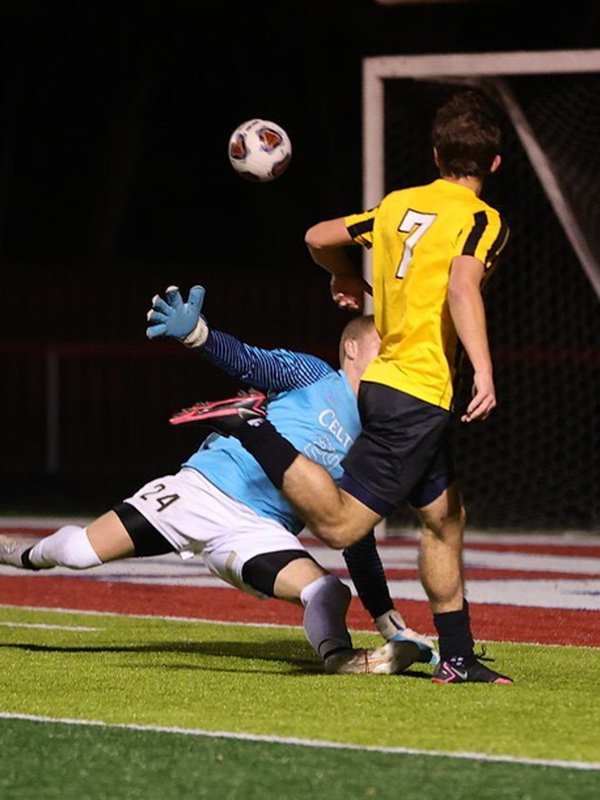 A member of the FC Cincinnati Academy team since 2019, Jack knows what it takes to compete at a high level. And it isn't just showing up on game day. It is also training – both on the field and in the weight room. It is also nutrition, studying and pouring your heart into something you love.
So, when an injury occurs, the pain runs deeper than the physical ailment. Recently Jack has learned a lot about overcoming adversity from an injury. This is because in the last two years, Jack has torn both of his ACLs, had two surgeries and spent countless hours in rehab to get back on the field, playing the game he loves.
"I first tore my right ACL and sprained my right MCL in an on-field contact injury in November 2019," Jack shares. "It took a bit of time to wrap my mind around the injury. Prior to that, the longest I'd been off the field was a week or two."
Typically, an injury like Jack's requires four to six months off the field and sitting out of games for nine to 12 months. As an FC Cincinnati Academy team member, Jack had direct access to the team's head physician and chief medical officer, Matthew Busam, MD. Dr. Busam performed Jack's ACL reconstruction in December 2019 and Jack rang in 2020 with a goal of getting back on the field.
Despite the COVID-19 pandemic beginning in 2020, Jack worked on his rehab process and was back on the field in August 2020. But then then, the unimaginable happened. In October 2020, Jack suffered a non-contact tear of his left ACL.
"I was so frustrated," Jack says. "I had just spent the past 10 months getting back to my 'normal' and just like that I had to start over. But this time, I knew what to expect. I knew Dr. Busam and the team would take care of me and get me back to the game I love."
Following his second ACL surgery, Jack's drive and determination had never been greater. He rehabbed with Chad Smith, PT, of Mercy Health and Sam Korolev, ATC, at FC Cincinnati Academy. He even made it back to the field for his senior season. With 19 goals and 13 assists, Jack led his high school team to the Division 1 state championship game on Saturday, Nov. 13, where they were defeated in overtime by the No. 1 team in the country.
While his success in high school was impressive, what is even more impressive is that he'll continue his soccer career at United States Military Academy. Jack is choosing to serve his country while earning a degree in engineering. He sees this as a way to continue challenging himself to be the best version of himself.
"Thank you all for helping me get through this and holding me accountable to stay on track throughout the rehab process," Jack says to his care team. "Specifically, thank you to Dr. Busam for being so professional in how you treated the process. Thank you to Chad for working with me for essentially two full years of physical therapy and always pushing me. And thank you to Sam for stepping in and working so well with Dr. Busam and Chad."
Learn more about the sports medicine services we offer at Mercy Health.