Brian Smith celebrated his birthday in an unexpected place. On the day he turned 27, Brian was a patient recovering from a stroke at The Jewish Hospital – Mercy Health.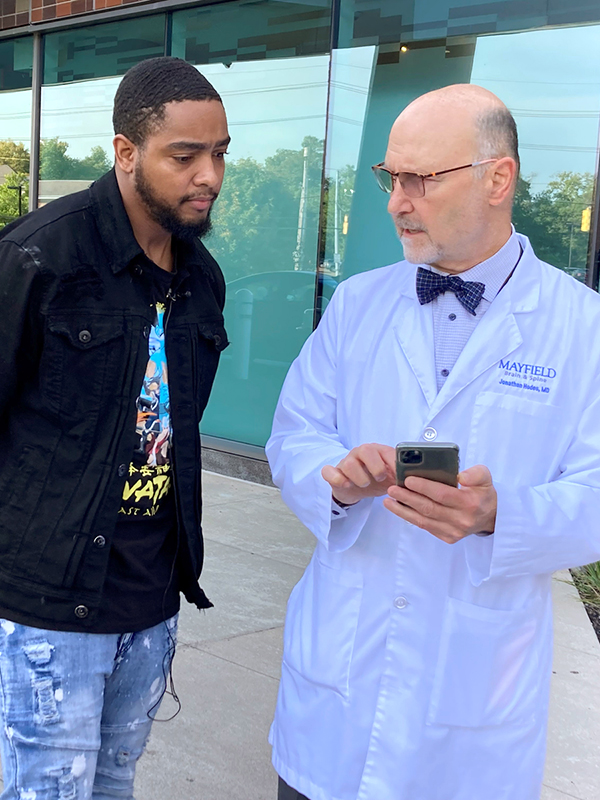 Just days before, on May 18, medics raced to determine what was ailing this young man. According to the house guest who called 911, Brian went to bed seemingly in perfect health. However, he then woke up and was acting strangely: not talking and just staring. When EMS arrived at his home, Brian was on the floor near his bed, unable to move.
"I was asleep, woke up and the right side of my body wouldn't move. It was paralyzed," Brian recalls. "It was crazy. I was trying to move, and I couldn't move. I laid there for a second and then fell on floor next to my bed."
When the EMS squad noticed Brian's right-sided paralysis and inability to smile evenly, they alerted the emergency department at The Jewish Hospital to Brian's symptoms. Upon arrival, an emergency department doctor and nurse accompanied Brian as he went directly to the CT scanner.
While doctors can administer a clot busting medication (TPA) to patients with acute stroke symptoms up to four-and-a-half hours after exhibiting symptoms, Brian was unfortunately outside that window of time. However, luckily, some stroke patients with a large vessel blockage are eligible for an additional treatment option, called a thrombectomy, up to 24 hours from when they were last known to be well. The Jewish Hospital is one of just a few hospitals in Ohio certified as a Thrombectomy-Capable Stroke Center by The Joint Commission and the American Stroke Association.
Brian qualified for a thrombectomy. His CT scan showed that he had a clot blocking one of his large vessels in the brain, putting a big portion of his brain at risk from lack of blood flow. Within an hour of his arrival at the hospital, Brian was in the cath lab, undergoing a lifesaving thrombectomy. Jonathan Hodes, MD, MS, a neurosurgeon at Mayfield Brain & Spine, was able to remove the clot.
"Minutes can make a critical difference when treating strokes or symptoms of a stroke," Dr. Hodes shares. "Getting patients to a certified stroke center as quickly as possible can save lives. In this case, we were able to restore the blood flow to Brian's brain, boosting his chances for a full recovery."
Just three hours after he got to the hospital, Brian was in recovery in the intensive care unit (ICU).
"I woke up in the hospital and they told me I had a stroke," Brian recalls.
While the thrombectomy saved his life, the stroke did do damage. Many stroke patients require extensive therapy after a stroke, and Brian began physical therapy, occupational therapy and speech therapy in The Jewish Hospital's Acute Rehab Unit. There, patients receive therapy three hours a day to help them recover. And these therapy sessions continued when Brian left the hospital after a six-day stay.
"I had to work to regain my body the way it was. I had to learn how walk again and talk again. I had to learn how to use my right arm and my right leg," Brian says. "I didn't think I was going to be same because I felt like I couldn't talk and talking was all I did. I talk with people on the phone all day long for a living."
Brian also quit smoking, since smoking may have contributed to his stroke. Overall his therapy sessions, both in the hospital and at home, have helped Brian make progress.
"I feel like I'm getting better and would say that I'm at seven or eight out of 10," Brian shares. He plans to return to work as a human resource advisor soon.
As a young person who looks well from the outside but is working to recover from a major health incident, he cautions people to be kind to others.
"It's not a joke. You've got to be careful with people. You don't know how they are feeling. Some people are learning how to use their bodies all over again."
Learn more about strokes as well as the stroke care services we offer at Mercy Health.