For Nicole O'Donnell, accepting a role with us at Mercy Health in January 2020 now seems like divine intervention.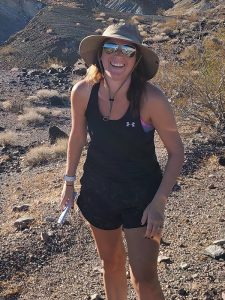 The 31-year-old contact center workforce management manager was quick to get herself established with a primary care provider (PCP) after going without for years.
"I was a typical millennial," she says.
On the night of March 28, 2020 as she was watching television, Nicole had an itch. That's when she felt it – a lump. It was close to the surface and her husband felt it, too. She got an appointment to see her PCP, a nurse practitioner, on March 31.
After the feeling the lump, the PCP sent Nicole to the women's center at Mercy Health – Eastgate Medical Center for ultrasound and mammogram at noon that same day.
"During the ultrasound, I could see the screen," Nicole recalls. "It was a black mass and terrifying."
Following mammograms on both breasts and a biopsy, on April 7, a nurse navigator confirmed that Nicole had the most common type of breast cancer and that it was at stage 1B. The navigator arranged for Nicole to have a virtual visit that day with Mercy Health physician and surgical breast oncologist Abigail Tremelling, MD.
"She walked me through the pathology and her recommendations," Nicole says. Ultimately after reviewing all the options they decided on a double mastectomy, primarily due to Nicole's age.
Ten days after her diagnosis, Nicole underwent surgery with both Dr. Tremelling as well as Mercy Health physician and reconstructive plastic surgeon Neil Kundu, MD. He placed Nicole's implants that same day. Because the cancer was close to her skin, she underwent a skin-sparing mastectomy on the breast with cancer and complete skin- and nipple-sparing mastectomy on the unaffected breast.
Testing on Nicole's tumor confirmed that it has a low chance of reoccurrence, so she didn't have to undergo chemotherapy or radiation. Because her cancer was hormone-positive, Nicole will take Tamoxifen for 10 years to block the effects of estrogen on her breast tissue.
Nicole acknowledges that it's important to have a strong support team in place. She is so thankful for her husband, parents and sister, and loves her surgeons and oncologist. She works with a therapist, too.
"I have moments. The mental health piece is important. What's hard is when the treatment stops. Once I was done with surgery and the follow-up appointments, I thought, 'Now what? How do I move on?'" Nicole says. "My priorities are different now. I love working from home, being with my husband and family. There's joy and purpose in my work. One thing that sticks with me is what if I had waited? What if it was in my lymph nodes? Most young women wait and then it's too late."
Because of this, Nicole has not hesitated to tell others about her experience. She continues to use her words to encourage others to get their screening mammograms.
"I have shared my story on Facebook and Instagram with friends and family," says Nicole. "I heard that for every woman who shares her story, 15 women will get a mammogram. I have to say something. If I can save the life of one person, that's all I need."
Mammograms are incredible tools for early detection of breast cancer, but Nicole was younger than most women are when they start having mammograms. That's why many doctors recommend that women talk to their provider about their individual risk and start performing breast self-exams around age 25. Self-exams help you get to know your breasts and what is normal, making anything that feels different stand out.
Pick a day, like your birthday, and perform your self-exam at the same time every month. To start, stand up with one arm above your head. Check the entire breast and armpit for anything that feels out of the ordinary, first on one side and then the other. Some people like to do breast self-exams in the shower, using soap and water during their self-exam because they help the hand slide across the breast and armpit more easily. Make sure that you feel your whole breast and underarm area before repeating on the other side.
Today, Nicole continues to be NED (no evidence of disease) and all of her follow-up appointments continue to go well. As for advice she would give someone going through a breast cancer diagnosis, Nicole has a few thoughts.
"It's OK to have bad days," she shares. "You don't have to be strong all the time. You will be overwhelmed and it will seem like there is no light at the end of the tunnel. But when that happens, just think about getting through the next minute, then the next hour, then the next day; before you know it you will be on the other side. Also, allow your family and friends to be strong for you when you need time to process everything. And finally, don't feel bad for laughing through some of this, because honestly some of it is hilarious."
Learn about the breast cancer care services we offer at Mercy Health.
If you have additional questions about breast cancer and screening options, get in touch with a primary care provider.