On Sunday, September 22, 2019, Floyd Woodson, was admitted to the Ray and Kay Eckstein Hospice Care Center at Mercy Health – Lourdes Hospital in Paducah, KY.
Diagnosed with ischemic cardiomyopathy, respiratory failure, and COPD, Floyd's prognosis was poor. His physicians told his family he may never leave the center.
The next day, hospice care center staff members learned that Floyd's daughter, Valantha, was very upset and trying to reach her fiancée, Kenneth Knight. She feared her father was going to pass away before their wedding day in two months. Even if her father went home, she lived two hours away and knew he wouldn't be able to make the trip.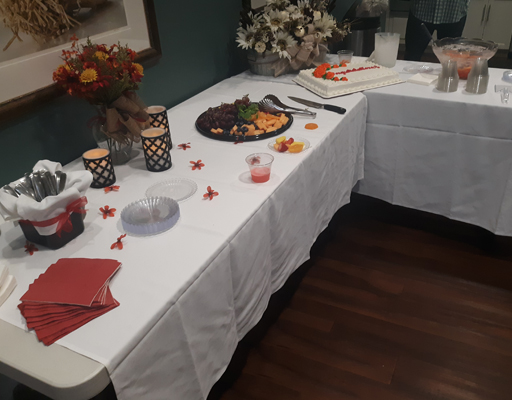 The hospice care center team told Valantha they had held a wedding at the center before and could do it again. Valantha happily agreed because she knew her dad wanted to see her get married.
From there, the hospice care center team jumped into action.
They started by calling the county court house and learning how to obtain a marriage license for people from out of state. Next, the center's dietary manager was notified about getting some snacks for the celebration. Lastly, the center's chaplain agreed to officiate a simple, in-room ceremony.
At approximately 7 p.m. that same evening, Valantha married the "love of her life" with her father by her side. The ambiance included electronic candlelight and flower arrangements with the bride and groom's favorite colors. Immediately following the wedding ceremony, a reception took place in the center's family room. A delicious fruit tray, wedding cake, and punch bowl were provided as well as table linens and dinner wear.
All of this was made possible thanks to the entire staff at the Ray and Kay Eckstein Hospice Care Center. The compassionate patient care provided by those involved helped create unforgettable memories for Floyd, Valantha, and their family. Since 2016, the staff has help put on two weddings as well as two baptisms at the center.
"You made our special day so special," Valantha said in a thank you note she wrote to the staff. "I'm so grateful that we were able to do our wedding with my father. You made the best of the situation. We are so grateful and thankful."
"Having the Ray and Kay Eckstein Hospice Care Center plus our great hospice staff, along with the help of many hospital employees, allows us to take our patient- and family-centered care to another level," says James Long Jr., M.D., medical director of hospice. "From my perspective, it was wonderful to see our staff provide great joy in what can often be a difficult situation. This was just so typical of their dedication to helping patients and their families with end-of-life care."
Learn about the hospice and palliative care services offered at Mercy Health.