When Amherst, OH resident Katherine Clark gave birth to her second child, Griffin, earlier this summer, it marked the end of a rollercoaster ride of emotions leading up to the big day. Her thoughts were fueled by the unknown of COVID-19, feelings most of us have been experiencing over the last several months.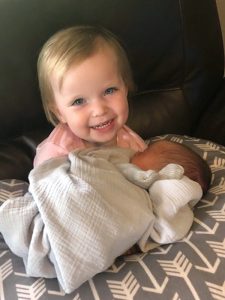 "You always imagine what your child's birth would look like. But this time around, it was fear of not knowing if I could have my husband, or anyone there with me," Katherine recalls.
Leading up to the big day, Katherine and her husband hosted window visits for family and friends to check on the expectant mother.
"Our daughter, Nora, is only two and a half and wasn't quite sure what to think of people coming to the door," Katherine shares. "But she accepted it with grace."
Working in health care herself, Katherine knew she and her unborn child would both be safe. However, she didn't expect the comfort the COVID-19 screening process brought her when she arrived at Mercy Health – Lorain Hospital for her delivery.
"Everyone was screened, wearing masks and although you couldn't see their smiles, you could feel everyone's concern and compassion – I just knew I was in good hands." Katherine recalls.
Griffin Clark was born on Saturday, May 2, at the Mercy Health – Veard Birthing Center. Katherine notes that being able to stay close to home to give birth was a relief.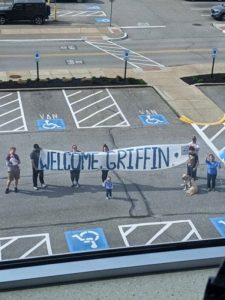 "Home is where our support network is and although just my husband could be there, I knew my family was close by and just down the road," Katherine says. "There was never a question for our confidence in the level of care, the quality and most certainly the compassion everyone at the birthing center had towards us – it helped wash away any of the fear I had."
Katherine credits her care team, which included her OB/GYN, James Matheson, DO, for helping calm her fears and create a family-focused environment. And even though Katherine's family couldn't be inside to greet Griffin when he arrived, they proudly and enthusiastically greeted him from the parking lot with a large banner.
After returning home with Griffin, Katherine questioned why she was stressed so much beforehand. She wants mothers at home to know that even though we are experiencing something many of us never dreamed of living through, the compassionate care team at the Mercy Health – Veard Birthing Center reminded Katherine that people have one job, to care for other people.
"Being able to have Griffin born in the same community in which we live means a great deal, mostly because this is where our loved ones are – those who have already become part of Griffin's story," she says.
Learn more about the maternity care services we offer at Mercy Health.