Mercy Health – Lorain is celebrating the success of a new program aimed at identifying and addressing health disparities among minority communities.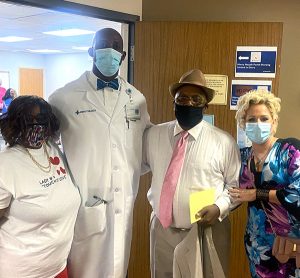 The United in Glory program was developed in response to the higher levels of COVID-19 in the African American community. However, program leaders quickly realized this virus wasn't the only health problem plaguing this group of individuals more than others.
"This entire program is based off one positive idea. The parish nurses took something that was going on in the community – something that could have been used to add negative fuel to the fire – and instead said, 'what can we do to change this?'" shares Robert Thomas, MD, one of our family physicians who helped oversee the United in Glory program. "That led to the funding they provided, which then led to the program and the recruitment of the individuals that participated in the program. All these efforts led to positive outcomes. It's just a phenomenal cycle, and it shows what a positive mindset can do."
Twenty-five individuals took part in the United in Glory initiative, which had them getting regular health screenings from October to May. The screenings were used to track metrics that impact chronic disease – things like blood pressure, weight and cholesterol. The goal was for patients to know their numbers and then use individualized coaching to teach participants how to manage and improve their health.
Dr. Thomas admits this was hard work from day one.
"We'd meet every morning. When we started off it was seven minutes on the elliptical. I can remember that first day like it was yesterday, because at the conclusion of seven minutes, I was about a second away from running and getting the automatic defibrillator!"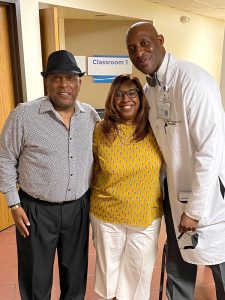 It's a day Rev. Terrance Bivins of Worship Cathedral in Lorain, OH also remembers well. In fact, he called it seven minutes of torture. However, he says Dr. Thomas and our other team members made it an experience worth enduring.
"In the midst of those seven minutes, he was so encouraging and made you want to continue working. Starting out, I didn't know anything about workout equipment even, but he explained it and its purpose with encouragement," Rev. Bivins shares. "I'm very thankful and very grateful for the program, and for what he's done and what God has done. I feel really good now. I feel better."
So much better that Rev. Bivins says his number of health visits have gone from a daily occurrence to just once or twice a week with this program. His weight loss and other physical changes have also not gone unnoticed by his congregation.
"The joke going around was the doctor must have been giving me weight loss pills," he laughs, while acknowledging that the results did inspire others. "My church members – their whole mindset has now changed when it comes to healthy living, and it's great. As a leader, I'd talk about it and the people were hearing it and they just began doing it."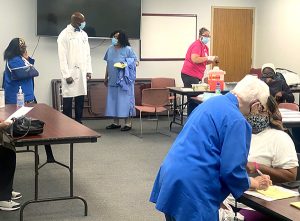 Now, inspired by his personal United in Glory success, Rev. Bivins has set up monthly blood pressure screenings at his church. He says it's made a world of difference, reducing "killer blood pressures throughout the entire church" to an issue that only one or two members now struggle with.
The United in Glory program sparked similar results, with the 25 participants collectively losing 121 pounds and 136 inches off their waists. They saw numbers improve across all the metrics they tracked – something that doesn't surprise Dr. Thomas one bit.
"It's the snowball effect, which again shows that when you start with a positive thought, that turns into positive actions," Dr. Thomas shares. "At Mercy Health, we put God first, and I think it speaks volumes about our mission. Our vision is to be inspired by God's hope for the world. Because of this, we will become a ministry where associates want to work, clinicians want to practice, people seek wellness and the community thrives. So, if that is the drum major for what we're about at Mercy, then you can see programs like this are the byproduct of that."
As for what comes next, Dr. Thomas says plans are already being made to bring back the United in Glory for a second year. Their hope is to have some of this year's participants return as mentors for the next round of recruits as well.
Learn more about our mission and how it inspires the work we do at Mercy Health.