Santa's sleigh wasn't in its traditional red. Instead it was blue and green as he flew over Toledo, Ohio in a Mercy Health – Life Flight Network helicopter with presents for area girls and boys!
The Hope for the Holidays Drive-Thru Bash took place on December 6. People from all over the Toledo community stopped by the event and donated toys without even having to get out of their car.
This annual toy drive is hosted by the 13abc news station, who works in collaboration with the Salvation Army as well as the U.S. Marine Corps Reserves (Toys for Tots). Since 2011, the Hope for the Holidays Toy Drive has raised and distributed over 113,000 toys to local area children in need.
Mercy Health – Life Flight Network was thrilled to participate in the event this year. They helped raise awareness by having one of their helicopters fly in Santa with more than 100 toys to deliver. And it was flight nurse Kim Vanderbusche who rallied her entire team of nearly 100 members to collect these toys.
"Our teams are usually called in on a person's worst day. We wanted to participate in something that would help our community and bring smiles to others," Kim shares.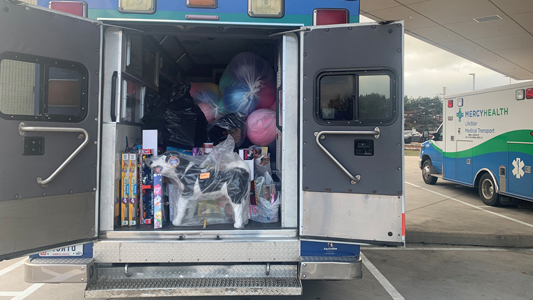 Kim marked her calendar last Christmas season for Mercy Health – Life Flight Network to participate. This gave the team plenty of time to collect the gifts, which were collected at all bases throughout the region.
"The people in Toledo have always been very generous. They have a very good community spirit that just helps with everyone in the holiday season," said Santa, in an interview with 13abc.
The event was so successful that the Life Flight Network couldn't fit all the toys in the helicopter with Santa. Therefore, a crew drove an ambulance full of toys to the drop off site as well.
As Santa waved and met with kids, volunteers from all over Toledo helped bring all the toys inside the 13abc news station. Everything from stuffed animals to bouncy balls, and not a single toy was left behind.
"It was so gratifying to see the smiles on everyone's face," says Kim. "Watching everyone come together and want to help really inspires me. I would love to do this again next year."
At Mercy Health, our mission is to extend the compassionate ministry of Jesus by improving the health and well-being of our communities and bring good help to those in need. Learn more about our mission programs.