When a routine knee replacement surgery became two major surgeries in one day, Lesa Welch was comforted knowing that her husband, Jeffery, was being cared for by our team members at Mercy Health – Lourdes Hospital.
Hear from Lesa firsthand about Jeff's care experience.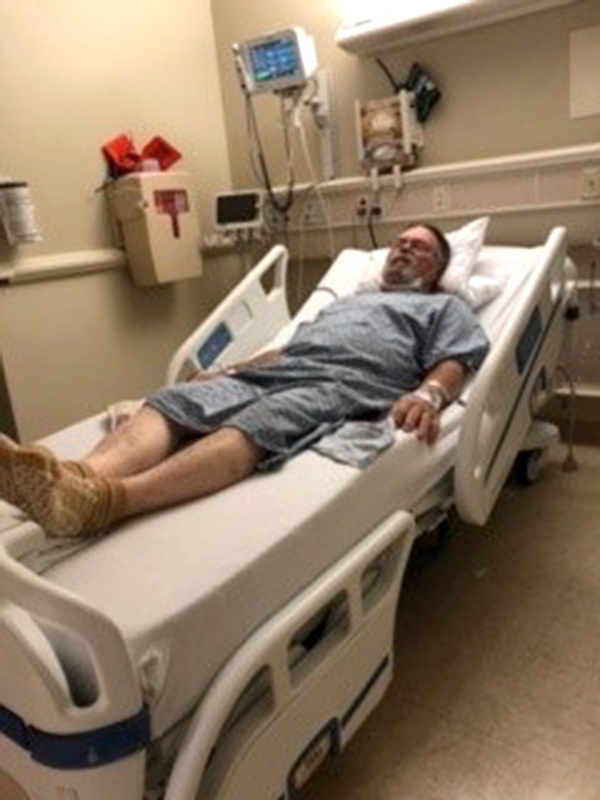 "Jeff was admitted to Lourdes Hospital for a total right knee replacement after his knee had been giving him trouble for some time.
First, we made an appointment to see Shiraz Patel, MD, and have him check out Jeff's right knee because all the other therapy had failed. We then decided with Dr. Patel to go forward with a total right knee replacement.
Jeff went into surgery at about 2:30 p.m. that afternoon. By around 4:30 p.m. Dr. Patel came out and stated that the surgery went well. He achieved 100 percent straightness of the knee and Jeff was doing well.
But then, within a few minutes, Dr. Patel came back out and pulled me as well as our daughters into a conference room. He let us know that they could not find a pulse in Jeff's right foot; it was cold. He believed Jeff had formed a blood clot and shared he would have to go back into emergency surgery to remove the clot.
Dr. Patel had already spoken to Scott Sanders, MD, a great vascular surgeon, and he was on his way in to do the surgery. Dr. Sanders arrived, performed a vascular scan and found a blood clot in the number 3 popliteal artery. He told us he would have to go in, remove the clot and do either a graft or bypass.
Dr. Patel was wonderful. He stayed with Jeff during the whole second surgery and would come out to give our family frequent updates. The surgical nurse also updated us. Finally, around 10:30 to 11:00 p.m., both doctors came out and let us know that the artery had dissected, causing a clot affect. Dr. Sanders repaired the artery with a graft. Jeff had a good pulse in his foot now.
Again, I can't brag enough on both Dr. Patel and Dr. Sanders.
Jeff went to the intensive care unit (ICU) overnight so they could keep a close watch on his pulses on the foot. He woke up and was hungry. Being a diabetic, Jeff had had nothing by mouth for 24 hours by then. Luckily, he had an excellent nurse in ICU named Jeremy who was working that night. He went and bought my husband a chicken salad sandwich and a bowl of fruit and paid for it himself. We tried to reimburse him for it, but Jeremy would have none of it. This young man is a true asset to the Mercy Health team. He gave excellent care as well as went above and beyond his duties that night.
From there, we were moved to the fifth floor. I am happy to say that the excellent care continued. Jeff's daytime nurse was Leisa. She was fantastic! Jeff, myself and my granddaughters all loved her. His night nurse, Jenn, was an absolute rock star, too.
What started out as a routine knee replacement ended up as two major surgeries in one day. And what was supposed to be an overnight stay ended up as a seven day stay. However, through it all, the Mercy Health team members made everything so much easier for us. We feel we were in the best place when this happened with the best physicians, best nursing staff and the best overall hospital care."
Learn more about the sports medicine and orthopedic services we offer at Mercy Health.