On August 30, 1976, Tom Hoerlle started his first day at what is now Mercy Health – Lorain Hospital. Now this month, 44 years later, Tom, begins retirement and the next chapter of his story.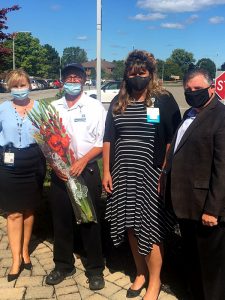 "Everyone has been like family, helping each other and getting through the good and bad," Tom says of his years with Mercy Health.
Tom began his career in the kitchen and then moved into materials management. He ultimately spent the last several years of his career working in the environmental service department.
Although Tom is officially retiring, he plans to come back to the Lorain market as a spiritual care volunteer. In this role he will help patients and their families cope through some of the most vulnerable moments in their life.
Additionally, Tom serves the greater Humility of Mary ministry by volunteering his time and doing mission work in Haiti, one of the Sisters of Humility of Mary's ministries. Tom has already visited five times and hopes to make a sixth visit soon.
During his final day on the job, a number of colleagues as well as market leaders gather with Tom taking a moment to recognize and thank him all of his amazing work.
On behalf of the entire Mercy Health family – thank you, Tom for your 44 years of service!
Learn more about the health care services we provide at Mercy Health.