In June 2019, 84-year-old David Hogrefe started experiencing shortness of breath, fatigue and swelling – symptoms of heart failure . David visited Mercy Health – St. Rita's Medical Center where he was diagnosed with two faulty heart valves.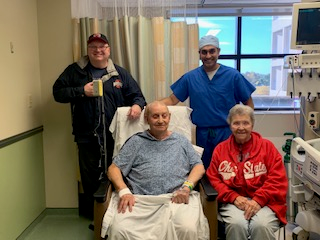 Working together, the cardiology team helped David get his life back by performing both an aortic and mitral valve replacement — both without having to perform open heart surgery.
Previously, patients who suffered from aortic stenosis and mitral stenosis would require open heart surgery, a week-long stay in the hospital and a very extensive recovery process to get back to their previous quality of life. Today, surgeons and interventionalist are now able to accomplish these replacements via a transcatheter approach, which only requires a one-day hospital stay.
Mercy Health – St. Rita's Medical Center has been performing Transcatheter Aortic Valve Replacement (TAVR) for over a year. Transcatheter Mitral Valve Replacement (TMVR) is new technology in the Lima, OH region. Both of these procedures give patients who are not candidates for open heart surgery due to age and frailty the ability to replace their faulty valves. Also, having these procedures available locally benefits the community by giving individuals easy access to this care.
David was the first patient at Mercy Health – St. Rita's Medical Center to undergo both the TAVR and TMVR procedures.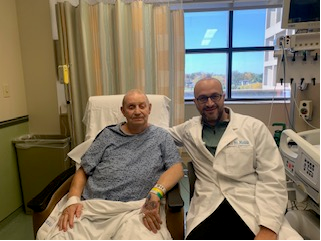 "Before when I had the open heart surgery, I was in here 21 days," David says. "Now, after being in the hospital only 24 hours, I'm going home. You can't beat that!"
Interventional cardiologist Sandeep Patel, M.D., cardiac surgeon John Sirak, M.D., and cardiac anesthesiologist Prabhakar Parsa, M.D., are the Mercy Health physicians who performed David's procedure.
"It's just not one single person's performance. It is the teamwork which goes into this," says Prabahkar Parsa, M.D., an anesthesiologist. "The success goes to the entire team."
Now, David is back to experiencing a full life. The TAVR and the TMVR procedures have improved his quality of life by relieving his symptoms.
Learn more about the TAVR procedure or find a provider near you at Mercy Health.