Angel Jablonski, supervisor of sterile processing at Mercy Health – St. Charles Hospital, (pictured with her team above and in copy receiving an award) learned from an early age the importance of hard work.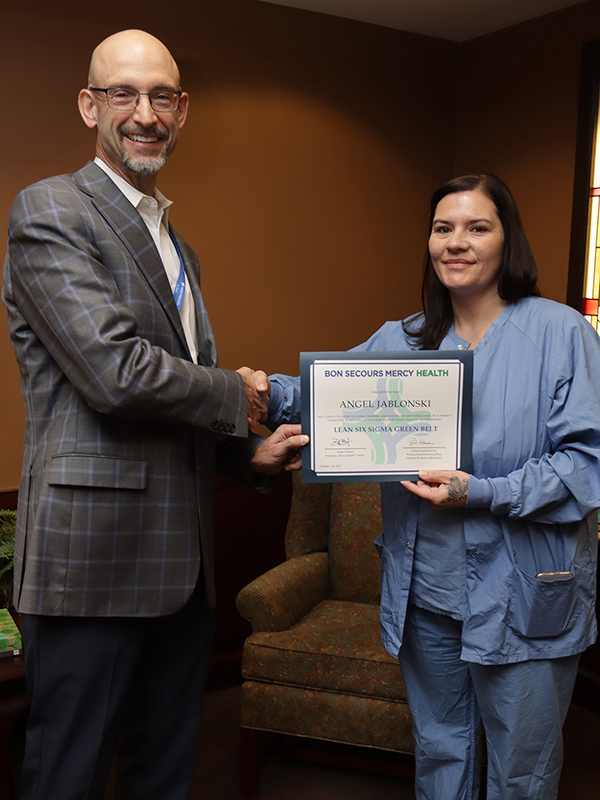 "I grew up in a low-income household with my brother raised by a single mother," Angel shares. "We didn't have a car, or essential things like health insurance. My mother worked two jobs to try and put a roof over our head – as a result, she was never around. To some extent, my brother and I basically raised ourselves."
When she was 16, Angel became pregnant with her first child.
"I was ashamed that I had become a statistic of low-income families and teenage pregnancy, so I stopped going to school," she says. "I also struggled with issues resulting from undiagnosed ADHD – and with no insurance, it wasn't an option to seek medical attention, so it was considered a discipline issue."
Angel continues, "I don't want to sound like I feel sorry for myself, because I don't, but I was the kid in high school you really didn't want your child to hang around. So, when I became pregnant, it was just easier to stop going to school."
Luckily, Angel's grandmother encouraged her to go back to school to get her high school diploma after she had her son, which is what she did.
"She was retired and able to help with my son," Angel recalls. "I couldn't go back full time with the baby, but I was able to take classes part time and get my GED. My son was born one month after my 17th birthday, and I had my GED by my 18th birthday. I could not have done this without my grandmother's support."
From there, Angel built out a 24-year career with our ministry, working her way up from when she was 18.
"I was working at Wendy's but looking for something that would offer health insurance for myself and my son," she explains. "I applied in housekeeping at St. Charles and got a call back quickly."
Working at the hospital, Angel knew she'd found the place where she saw her future.
"While in orientation for housekeeping, I toured central services and knew as soon as I walked in the door that this was where I wanted to work," she says. "It was this feeling of when you walk in a room where you know no one, so you should feel very uncomfortable or anxious, right? But you just don't."
Angel worked as a housekeeper for a few months. Then one day, when taking equipment to the soiled hold after a discharge clean, she ran into the lead tech from central supply, who told her of an opening in her department.
"I figured it was a long shot, I was still new, and I was young, but I decided it was surely a 'no' if I didn't at least try," Angel says. "So, I did – and I got the job!"
Once she landed the role in central supply, Angel continued to work her way up. She went from part-time second shift to full-time first shift, and she was able to buy her first home for her and her two sons at 24 years old.
From there, she was promoted to lead tech in sterile processing, then coordinator of materials management and then to her current role of supervisor of sterile processing. Angel shares that her beginnings with the ministry have helped her see the potential in others as a leader.
"I'm still learning the ins and outs of management, but we have a very successful department. Most of my staff started in housekeeping. I always tell the recruiters I don't necessarily need candidates with experience – what I need are people who want to work and want to learn."
This holiday season, we are celebrating by spreading the good news! Read more feel-good stories, like this one, that feature our team members, patients and the wonderful communities we are blessed to serve.
Also, learn more about the health care services we offer at Mercy Health.