Mercy Health and The Ohio State University Wexner Medical Center recently opened an Ohio State Wexner Medical Center organ transplant clinic on the campus of Mercy Health – St. Rita's Medical Center.
The two hospital systems formed the Healthy State Alliance with a vision to improve the health of the communities we serve by tackling Ohio's most critical health issues, one of those being access to transplant care.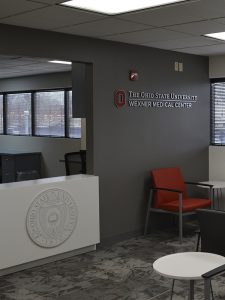 The new clinic allows patients to get pre-transplant evaluation and education for kidney, heart, lung and liver transplants close to home in northwest Ohio. But what exactly does that mean for these patients?
Convenient access to care
Transplant care is a serious health issue in Ohio. One Ohioan dies every other day waiting for an organ transplant, and more than 3,000 are waiting for that life‐saving transplant at any given time.  In many circumstances, if care isn't available close to home, those in need never receive the care.  Having care close makes a difference.
Reduced travel costs
For those fortunate enough to be able to travel to receive care not available in their community, there can be significant travel costs. From food to gas to transportation itself and possible out-of-town hotel stays, the costs can add up. Providing care close to home virtually eliminates those travel-related costs.
Nearby support network
When care is provided closer to home, it makes it easier for a patient's support network of family and friends to participate in their care. Whether it is joining them for appointments or being there for after-care support, having nearby loved ones on hand helps patients in their health care journey.
Reduction of anxiety and stress
An illness can bring significant stress and anxiety to a patient and their family. Limited travel is more convenient, lets patients and family to continue to enjoy the comforts and familiarity of their home and alleviates some of that stress and anxiety.
Learn more about The Ohio State University Wexner Medical Center's new organ transplant clinic at Mercy Health – St. Rita's Medical Center.