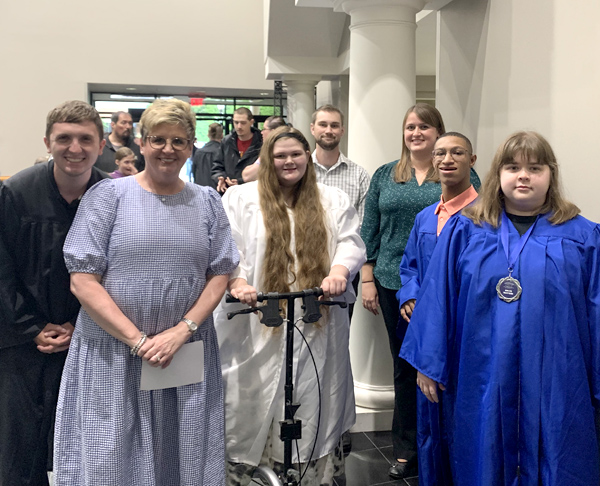 Since 1996, Project SEARCH has allowed individuals with developmental disabilities the opportunity to experience and succeed within a transition-to-work program. In November 2011, the program was introduced at Mercy Health – Springfield. Since then, it's had nothing but impressive results.
Just ask Jeremiah Sherman.
"The program has impacted my life in the most awesome of ways," Jeremiah shares. "I love working here, because it feels like a family and I have a lot of friends. Now that I am a mentor, I find I am more professional, have better leadership skills and I enjoy working with the new interns and showing them how to become good, reliable employees. Not only do I show them new job skills, but I also like sitting with them at lunch and learning about their lives. It helps improve their communication skills."
Jeremiah successfully completed our ministry's Project SEARCH program in 2017 and now works for our health system. During his time in the program, Jeremiah worked in the dietary department as well as the maintenance and engineering department. However, it was during his final rotation that Jeremiah's gift for mental math, organizing systems and attention to fine detail really helped him shine.
"Within Jeremiah's rotation in inpatient pharmacy, Jeremiah was able to check in the different medications that were delivered to the pharmacy," Jeana Baucant-Koon, our Springfield Project SEARCH coordinator, explains. "He was able to catch mistakes that were being made – mistakes that weren't noticed until he came along."
So, it should come as no surprise that Jeremiah was asked to stay on as a pharmacy clerk upon graduation. In fact, his work as an intern was so outstanding, this position and job title were created specifically for Jeremiah.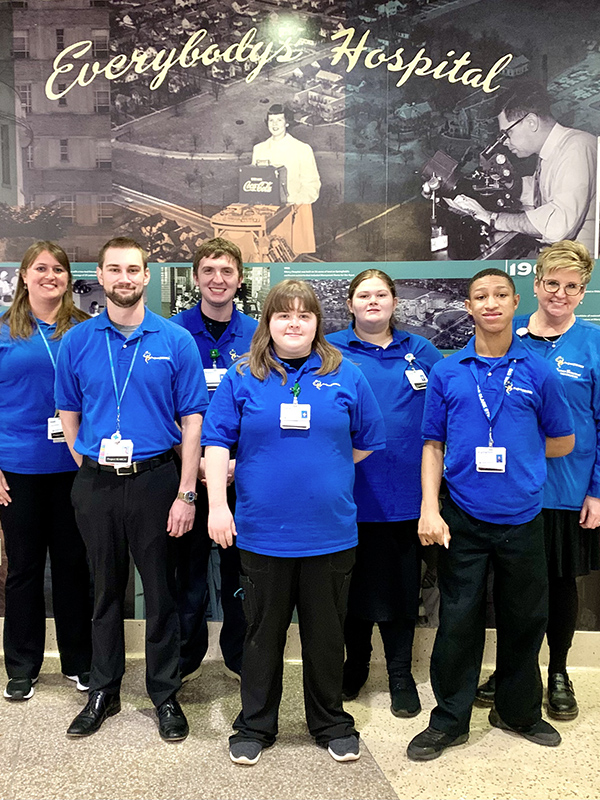 "He likes everything about his job, and it's not just his job, it's his career," Jeana adds. "He works hard, not only as a pharmacy clerk, but also as a mentor. He teaches current interns how to check in meds or how to operate the computer. Over the course of his career, Jeremiah has mentored eight students."
This June, Jeremiah will celebrate his fifth anniversary with our ministry, and he's not alone. We have proudly hired 32 percent of the 77 interns who have successfully completed the Project SEARCH program. Other area businesses have followed suit, with interns also being hired to work in the Springfield community at places like Schuler's Bakery, Wal-Mart, Kroger and the Forest Glen Health Campus just to name a few.
The goal of the program isn't just to help the interns find jobs, though. Finding work is just one part of a bigger strategy – to help these young men and women learn to stand on their own. This is just what Jeremiah has done.
"During my free time, I like teaching dance class, taking improv acting classes and voice lessons, helping with Developmental Disabilities of Clark County activities and I'm very active in my church," Jeremiah shares. "I have a pretty normal kind of life. I am a better worker and a better person because of Project SEARCH. Being a program graduate is something I am very proud of, and I hope more people take advantage of this opportunity."
Four new interns graduated from our Project SEARCH program this year, a smaller size due to the COVID-19 pandemic's impact. However, a full class of eight interns are already signed up and prepared to begin their journey this fall.
You can schedule a tour of Mercy Health – Springfield's Project SEARCH site by contacting Jeana Baucant-Koon at jeanabaucant@scctc.org or 937-523-5479.
Also, learn more about our mission as well as the health care services we provide at Mercy Health.