At Mercy Health, we love when our patients reach out and share about their experiences at our health care facilities. These stories truly push us to live out our mission to bring good help to those in need every day.
Hear from Ann Poirier, a recent patient, as she shares her story about giving birth to her son at Mercy Health – Anderson Hospital.
My name is Ann Poirier (pictured above left). I gave birth to my son Calvin just a few months ago on January 4, 2020. I had such a phenomenal experience and I just had to share.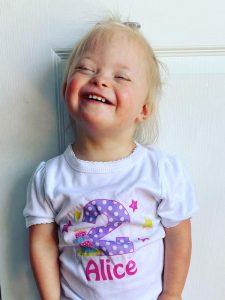 The nurses and doctors were so kind and caring to both me and Calvin. The rooms were clean. The vibe was positive.
I was most touched by the staff member who took our food orders shortly after we had Calvin. Her name is Angela (pictured above right) and she has Down syndrome. My husband and I have a two-year-old daughter named Alice (pictured left) who also has Down syndrome. Alice is our biggest blessing from the Lord!
When Calvin was only a few hours old and Angela came into our room to take our food order, I couldn't help but cry. Seeing Angela gave me so much hope that our daughter can be successful, independent and make such a positive difference in the world just like Angela is doing.
I still think about that experience every single day and I always get tears in my eyes. God certainly gave me all three of my kids, and although Alice's at-birth diagnosis of Down syndrome was a shock to us, seeing Angela gave me so much hope for Alice's future.
Thank you so much for having someone with Down syndrome on your staff. It shows amazing forward thinking and acceptance, especially for those of us raising a chromosomally enhanced child.
I really can't say thank you enough!
Do you have a patient story you'd like to share? Please tell us about it by commenting below. We would love to hear from you.
Learn more about the health care services offered at Mercy Health.