As addiction and the opioid crisis continues throughout our country, many lives are at risk. In fact, all 50 states reported a spike or increase in overdose numbers during the COVID-19 pandemic, according to the American Medical Association. Additionally, this crisis hits close to home as Ohio is consistently in the top five states with the most accidental overdoses.
This crisis has called for many health care systems, including our ministry, to fund programs to counteract deadly outcomes. Since 1995, Mercy Health's REACH Services (Recovery, Education, Advocacy, Care and Hope) has supported individuals struggling with addiction to alcohol, drugs and tobacco and worked with them to help them reclaim their lives.
The REACH Services team provides non-judgmental, compassionate care that treats people and their addictions.
Current services include:
Drug and alcohol treatment – Outpatient care for adolescents and adults is provided and includes assessments, individual counseling and group therapy as well as an intensive outpatient program (IOP) for those needing support. Treatment includes 30- to 120-day outpatient programs.
Detoxification – Assessing patients struggling with opiate or alcohol withdrawal to determine if they need rapid placement to a medical center for detoxification.
Medication-Assisted Treatment – Offering medication management, including the monthly Vivitrol injection, to assist with maintaining sobriety.
Community outreach – Free community presentations to local agencies and organizations to educate individuals on how to avoid alcohol, drugs and tobacco use.
Tobacco treatment – Individual and group classes are available through a six-week program, including programs for pregnant mothers.
Support Services/Case Management – Providing general help for patients trying to return to a sober society. This is sometimes in the form of free YMCA passes, gas cards and transportation tokens to REACH services, residential placement assistance and other forms of support.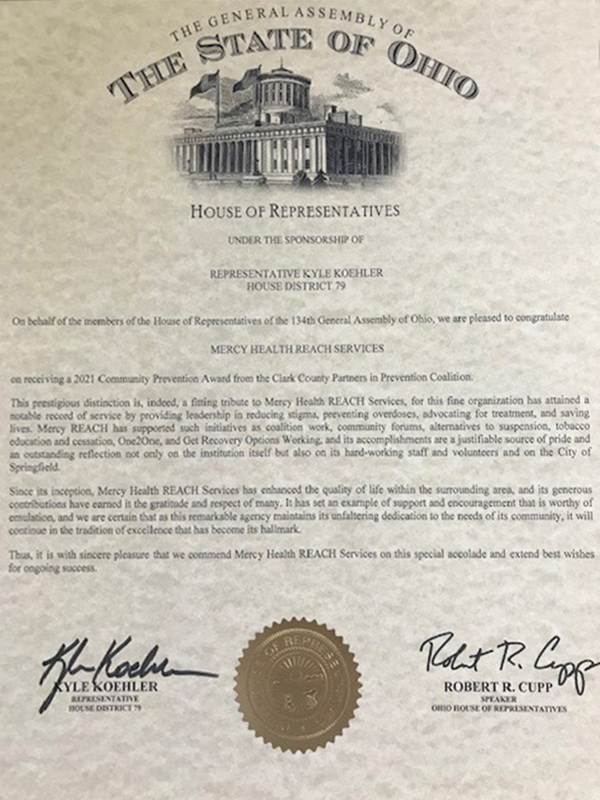 The success of Mercy Health – REACH continues to make an impact in Clark County as well as Champaign County in Ohio. In fact, the program was recognized by Rep. Kyle Koehler after it received the 2021 Community Prevention Award from the Clark County Partners in Prevention Coalition. This award recognized the program's leadership in reducing stigma, preventing overdoses, advocating for treatment and saving lives.
Here's a look at the impact REACH Services had in 2021:
Provided treatment to 512 new clients
Assessed 30 clients for detoxification placement (due to Mercy Health – Springfield Regional Medical Center's focus on COVID-19 patients, REACH placed clients in residential and detox agencies)
Conducted 1,575 individual counseling sessions
Conducted 498 group therapy/IOP sessions
Seven clients were interested in and received medication-assisted treatment (MAT) for a total of 17 injections
Community outreach education programs for adult and adolescents for alcohol, drug and tobacco education conducted more than 200 programs for local agencies, companies, courts, juvenile department and more.
Mercy Health – REACH is only available in Clark and Champaign counties, but is also proud to offer treatment to individuals struggling with addiction in our Ohio and Kentucky regions. For more information about REACH services, please call 937-390-5338 (Springfield) or 937-653-3001 (Urbana).
Check to the Mercy Health – REACH brochure to learn more about this program's services.