Ernie Hines' heart wasn't working properly. He had been experiencing symptoms of heart failure including shortness of breath, fatigue and swelling.
All these conditions were creating a need for open heart surgery. However, this procedure wasn't an option for Ernie due to his age and previous heart surgeries.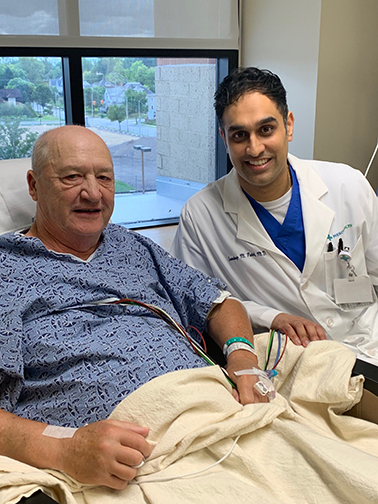 Because of his great need for a different treatment plan, Ernie became the first patient in the Lima, OH region to undergo a minimally invasive transcatheter mitral valve repair through the use of MitraClip™. After only 1.5 hours in surgery, Ernie woke up with a new quality of life.
MitraClip™ is a minimally invasive procedure used to treat mitral regurgitation. This heart condition occurs when blood leaks backward through the mitral valve as the left ventricle contracts. When this happens, blood can flow both in and out of the ventricle and atrium during a contraction.
The goal of MitraClip™ is to improve survival rates for all patients. Before this option, patients with mitral regurgitation would have to undergo an extensive fix including open heart surgery, a weeklong stay in the hospital in addition to a very extensive recovery and rehabilitation process. Now, MitraClip™ allows surgeons to accomplish this repair in less than two hours. This procedure also gives patients who are not candidates for open heart surgery the ability to repair their leaking valve.
"We offer a wide variety of procedures in the realm of interventional cardiology and management of heart disease," says Sandeep Patel, M.D., an interventional cardiologist at Mercy Health – St. Rita's Medical Center. "This is a huge deal for us and a huge deal for the community."
The first day MitraClip™ became available, Dr. Patel performed two minimally invasive transcatheter mitral valve repairs in one day – both with positive results. More procedures are currently being scheduled.
At 75 years old, Ernie told doctors this was by far the best he has felt after a surgery. Knowing from experience what is involved in open heart surgery, Ernie says he was happy to head home just one day after his procedure.
"I had my first heart surgery done in 1986 and I was in the hospital 11 days," he says.
Thanks to this advanced care provided by Mercy Health, patients like Ernie will now be able to experience a life in a way that might not have been possible before.
Learn more about our heart and vascular services.