For more than 30 years, our mobile mammography vans, or coaches as we call them, have brought peace of mind to scores of women across the Greater Cincinnati area. They have done this by extending the reach of our women's centers to locations convenient to their work and home.
Our mobile mammography team has driven the coach thousands of miles across our region to meet the demand for screenings that have the potential to save a life in just 15 minutes.
But like all vehicles, mammography coaches are susceptible to breaking down as they age, and our fleet recently needed refreshing to continue to serve the community.
The Mercy Health Foundation and The Jewish Hospital – Mercy Health secured a commitment of $450,000 from Mercy Health to support the purchase of a new coach. However, the cost of the new mobile mammography coach was $950,000. From there, the Wyler Family Foundation, Kroger Health and Ameritas have stepped up to provide the additional funding to complete the project.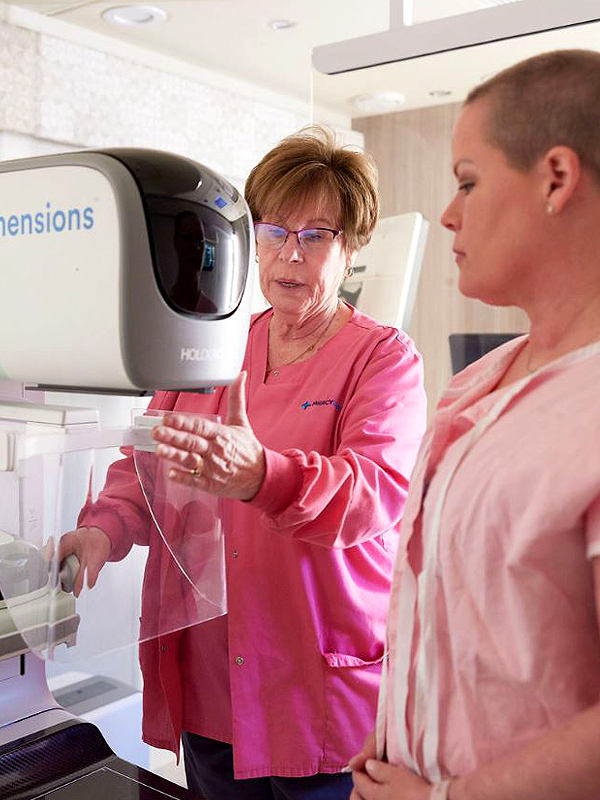 Their contributions, among many other donors, have allowed us to purchase two new state-of-the-art coaches, which will support expanded screening efforts.
"The support the Mercy Health Foundation received from so many individuals and partner organizations, to not only continue but expand the impact of the mobile mammography program, demonstrates our community's commitment to making it easier to ensure all women are regularly screened for breast cancer," Erin Hurlburt, MD, chief medical officer of population and community health in our Cincinnati market, shares.
Additionally, Kroger Health teamed with our ministry to bring mobile mammography screenings to convenient The Little Clinic locations throughout Cincinnati. We anticipate the new coach will begin serving patients in the next few weeks.
The Wyler Family Foundation shares they are "excited to be partnering with Mercy Health and know the new mobile mammography coaches will continue to save precious lives."
"We realize preventive breast cancer screening and educational tools have the power to save people's lives," Colleen Lindholz, president of Kroger Health, adds. "We are proud to play a role in creating accessibility to this impactful resource in our region."
"The mobile mammography program from Mercy Health is a great way to bring important preventive health care out into our community," Dave Voelker, senior vice president of individual operations for Ameritas, shares. "Ameritas is proud to partner with Mercy Health because we know the compassion they display in their care to help the well-being of local families."
Our mobile mammography coaches carry state-of-the-art technology, making them the most advanced and accurate screening tools available to patients.
Each coach also has the very latest 3D technology— called tomosynthesis —which improves the accuracy of the scans and reduces false positive results.
Patients who visit Mercy Health's mobile mammography coaches get results and details about any follow-up testing they might need right away. This helps bring peace of mind and shorten the anxious time between getting a worrisome result and any further testing and treatment the patient may need.
Visit our website's event page to find a Mobile Mammography event near you.
You can also call 513-686-3300 to learn more and to schedule an appointment. No-cost screenings are available to those who qualify, so ask about financial assistance options when you call.