Julie Landoll (pictured above, left), our Mission leader for Tiffin, Willard and Defiance, witnessed firsthand how our team members live out our Mission to serve others when her role changed from employee to patient.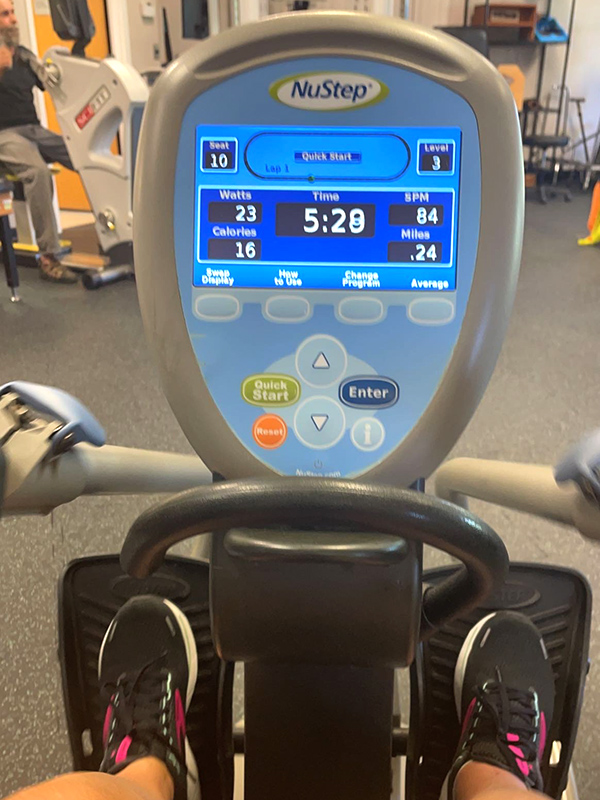 "I have a strong family history of arthritis and had my first knee replacement when I was 50 years old," Julie shares. "It was followed by my second knee replacement, and more recently had an ankle replacement."
She continues, "most people have never heard of ankle replacements as they are more uncommon than your typical knee replacement. I worked with Dr. Clayton Carmody, an orthopedic physician who specializes in ankle orthopedic surgery. I had my surgery at Mercy Health – St. Anne Hospital in March, and I've healed beautifully. I'm getting stronger every day."
Julie didn't start physical therapy right away because for a while she was not supposed to put any weight on her ankle. She was on a knee scooter and her family helped care for her.
"Then, two weeks after my surgery, I worked with the physical therapy team in Sylvania who are specially trained to work with patients that have had ankle replacements," Julie says. "After I worked with the team in Sylvania for a bit, my physical therapy care was seamlessly transferred back to Willard where I could work on my recovery closer to home."
Julie adds the continuity of care was perfect and that the Mercy Health — Willard Rehabilitation and Wellness Center team is excellent.
"I continued my therapy with them for the next eight weeks, where the team worked to restore my ankle function and strength," she says. "They also provided a lot of helpful education so I could continue to strengthen outside of physical therapy. I've now completed therapy and have full function of my ankle and continue build and strengthen my ankle every day. I take advantage of nice weather and go on walks and love taking a ride on my stationary bike!"
The thing that impressed Julie most was her therapy team's presence. They were always so patient and answered all of her questions.
"I appreciated their willingness to take on my more uncommon ankle replacement case, and in general they just really cared for my health and well-being."
Julie also noticed how they helped people every day, as she would see other patients coming in and out of therapy.
"We are so blessed to have this wonderful service right here in Willard because with this therapy team – you can just tell how much they want to serve others. It touched my heart, especially as a Mission leader, as I see our Mission and core values being portrayed daily. I just feel so honored to be part of this community both as a leader and a patient!"
Learn about the rehabilitation and physical therapy services we offer at Mercy Health.