Dirk Hines, MD, was in desperate need of a kidney transplant. Enter Heather Kouns, a medical assistant at Mercy Health Physicians Dry Ridge Family Medicine, which is also where Dr. Hines works. A perfect donor match was enough to make these two co-workers "Kidney Buddies for Life."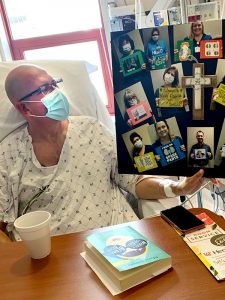 Hear directly from Heather as she shared her thoughts on this experience prior to the transplant surgery.
A very dear friend and co-worker of mine is getting a new kidney soon! And what's the best part, you ask? He's getting mine!
If you know Dr. Hines, you know he is an incredible human. As a family doctor, he has helped his patients manage their health for over 20 years. However, little do people know that he has long suffered with his own health issues.
Dr. Hines has hereditary polycystic kidney disease. This condition causes polyps to form on otherwise healthy kidneys which then wreaks havoc on them. Dr. Hines has lived with this disease knowing one day he would need a kidney transplant. In late 2019/early 2020 this day came. He started to see a decrease in his kidney levels.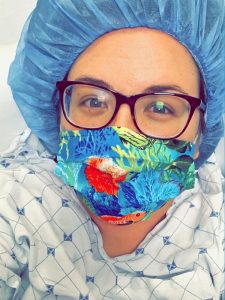 During an especially tough day for Dr. Hines at work, I decided to quietly sign up to see if I could be his donor. I found out I was a match, but I was told there were two other individuals who were better matches. However, the entire transplant process was put on hold because of the one and only COVID-19.
In June, I finally got the call to come in for some further testing. Then six days later, I was told that I was going to be Dr. Hines' match. We both couldn't believe it! I was literally speechless for the first time in my entire life.
I have been so blessed to work with Dr. Hines and learn from him over the last five years. On the first day that he announced he needed a kidney, 40 people applied to give him one. He is just so deserving. I could not be more excited that I get to be part of this process!
Please keep us in your thoughts and prayers as we prepare for surgery and go through the recovery process. I have already been so incredibly blessed with support, so thank you to everyone who has already reached out. My heart is just so happy.
The transplant surgery for Heather and Dr. Hines took place on July 13, 2020 and went well. Today, both Heather and Dr. Hines are doing great! Heather just had her first year follow up and all her lab results were in range. Also, Dr. Hines' new kidney function is in the goal range and has been stable. He now has more energy, too. 
Learn more about the health care services we offer at Mercy Health.