An empty chair was hard to find as the large crowd assembled in the Borders Community Room to learn what had brought together officials from Mercy Health – Lourdes Hospital and the University of Kentucky Markey Cancer Center.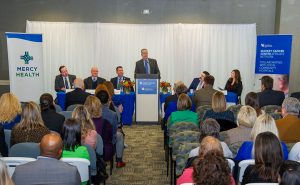 When Lourdes' CEO Michael Yungmann took to the podium, his words ushered in a new era of cancer care for Western Kentucky and surrounding regions.
"It is my honor to be the one to announce today that Mercy Health – Lourdes Hospital has joined the University of Kentucky Markey Cancer Center's Affiliate Network as a candidate member," Yungmann said to applause. Mercy Health – Lourdes Hospital's cancer program is the first in the region with an academic affiliation.
"Today's announcement positions Lourdes as the area's leader in cancer care," Yungmann continued. "Through affiliation with the prestigious Markey Cancer Center, we extend UK and the center's reach into our region so patients have access to Markey's high-quality cancer resources close to their homes."
The Markey Cancer Center was founded in 1983 and is a dedicated matrix cancer center established as an integral part of the University of Kentucky and the UK HealthCare enterprise. Markey functions as a multi-faceted, multidisciplinary complex with a mission to reduce cancer morbidity and mortality through a comprehensive program of cancer education, research, treatment and community engagement. In July 2013, Markey became one of only 71 medical centers in the country to earn an NCI cancer center designation. Because of the designation, Markey patients have access to new drugs, treatment options and clinical trials offered only at NCI-designated centers.
The Markey Cancer Center Affiliate Network (MCCAN) is a group of community hospitals in the Commonwealth of Kentucky that provide high-quality cancer services and programs in their communities with the support of the center. Under the formal collaboration, Markey will work with Mercy Health – Lourdes Hospital to further develop and expand its oncology service line.
Medical director of the MCCAN Dr. Timothy Mullett was the press conference's second speaker and he expressed his excitement for working with Mercy Health in building a strong oncology program.
"Our state unfortunately ranks at the top in terms of cancer incidence and mortality, but by working together with hospitals across the state, we have the potential to make a serious impact on cancer prevention and care," Mullett said.
In addition to his role as MCCAN medical director, Mullett is also the 2020 chair-elect for the national Commission on Cancer (CoC). As part of the affiliation agreement, Mullett and MCCAN staff will help guide Mercy Health – Lourdes Hospital toward achieving CoC accreditation, a national recognition of a cancer program's commitment to providing high-quality, multidisciplinary, patient-centered care. CoC accreditation is nationally recognized by organizations, including the National Cancer Institute, Centers for Medicare & Medicaid Services, National Quality Forum, American Cancer Society, and The Joint Commission, as having established data-driven performance measures for the provision of quality cancer care.
"The creation of an academic affiliation is a foundational part of creating a superior oncology program," said Mercy Health – Lourdes Hospital Executive Director of Oncology John Montville. "Working with Markey is the latest exciting news for our oncology program. Last year we introduced Mercy Health – Paducah Medical Oncology and Hematology, the practice of Drs. William Skinner and Wederson Claudino. An affiliation with Markey demonstrates our commitment to continue building the area's best cancer program, a commitment that will only deepen when we become a member of the Affiliate Network and with other plans that have me excited for the future."
The UK Markey Cancer Center Affiliate Network supports UK HealthCare's overall mission of ensuring no Kentuckian will have to leave the state to get access to top-of-the-line health care.
"UK HealthCare doesn't just serve central and eastern Kentucky – our goal is to provide all Kentuckians with the best possible care," said Dr. Mark F. Newman, UK executive vice president for health affairs. "Markey's Affiliate Network lets us collaborate with community hospitals to provide cancer care much closer to home, saving both time and money for patients."
The UK Markey Cancer Center Affiliate Network began in 2006 and comprises 20 hospitals across the state of Kentucky.
Visit the Mercy Health website to learn more about the health care services we provide.