Volunteers at Mercy Health – West Hospital are putting their knitting needles to work to help breast cancer survivors.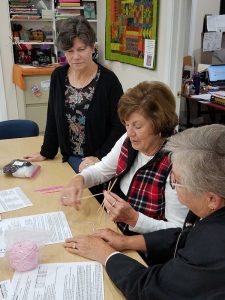 When Anna Sobolewski, MD, a Mercy Health breast surgeon, found out about the Knitting Knockers program from her patient Sue Yates, who had a double mastectomy, she knew this was something special that she wanted to be a part of.
Dr. Sobolewski reached out to the hospital's volunteer director, Alice Wanninger, to see if our volunteers would be interested in making these soft and comfortable knit prosthetics for breast cancer survivors. The volunteers were thrilled to be part of this project and the Mercy Health Foundation provided funds to support the initiative, reimbursing supply purchases from local businesses.
The volunteers got started right away following guidelines that the knitted knockers were to be made of 100% cotton so there is no irritation to scar tissue. Additionally, they must be washable.
"Women helping women – that's what it's about," Alice shares. "We're supposed to be loving and serving each other – and we get it done!"
Vicki Wright (pictured right) is a volunteer who participates in the Knitting Knockers program. She was excited to join because it has been a chance to use the knitting knowledge passed onto her by her grandmother to help others. Vicki has stitched about 50 pairs since she started with the group last winter, making a difference for women who have gone through breast surgery.
If you wish to support this project, you can send funds to Mercy Health Foundation, 1701 Mercy Health Place, Cincinnati, Ohio 45237, referencing "Women's Health Fund" in the memo line.
Learn more about breast cancer and find a Mercy Health provider near you.
Also, October is Breast Cancer Awareness Month. Don't forget to schedule your mammogram if you are due for one. Learn more and find a Mercy Health location near you.