Springfield firefighter and paramedic Rob Baise was greeted with an overwhelming show of love and support while being pushed in a wheelchair through the lobby of Mercy Health – Springfield Regional Medical Center during his recent discharge from the hospital.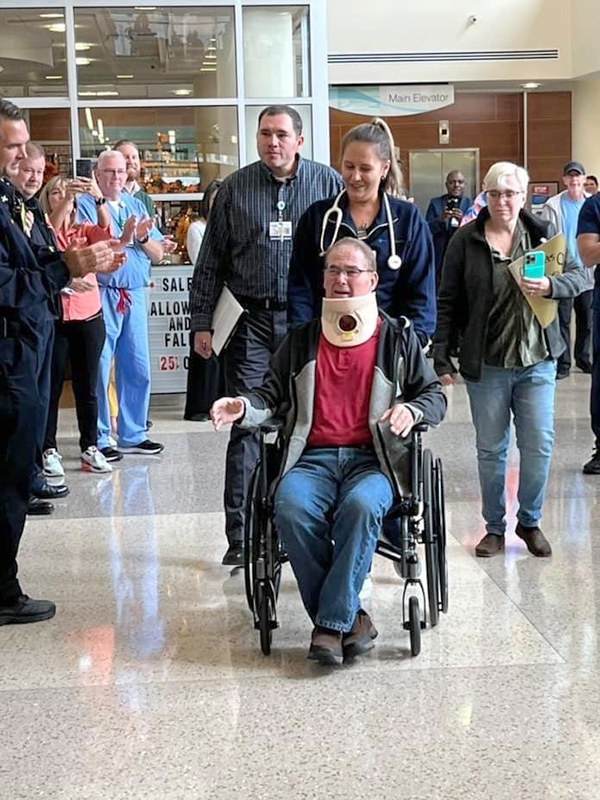 More than 200 firefighters, hospital team members and loved ones lined the lobby to show their appreciation for the man who was badly injured while fighting a house fire two weeks earlier.
Rob rose out of his wheelchair and thanked his well-wishers before walking out of the hospital, a far different sight than when he arrived. Since then, he's had time to reflect on his accident as well as his recovery.
"We were responding to a house fire, and we were on the second floor," Rob recalls. "There was thick smoke, and you could not see your hand in front of your face. It was getting really hot, and we were having trouble getting a hole in the roof to cool things down. The captain ordered everyone out because conditions were deteriorating, and I didn't realize I was the last one in."
The next thing Rob knew he was sliding head-first on his stomach down the stairs like a sled, and when he hit the bottom, it felt like lightning throughout his body.
"I could not use my hand to reach my radio. There's usually a protocol of information you provide when you are down, but I was having trouble speaking. All I could say was 'help, help, help.'"
Rob was taken by CareFlight to Miami Valley Hospital in Dayton, Ohio where he underwent surgery. He spent a week there before being transferred to Springfield Regional Medical Center's acute rehab unit (ARU).
"I was happy to be back in town and so happy Springfield offers this right where I live," Rob shares. "I was a little scared until the therapists saw me, and then I was at ease. I knew I chose the right place."
When he first arrived on the ARU, Rob couldn't move, get out of bed, wash up or dress himself.
"In that week that I was here those women helped me be able to do these things that we take for granted," Rob explains. "These people here they care. This team is amazing. I consider them friends. I was overwhelmed by how nice they are. They are next level, man."
Rob is now receiving outpatient therapy twice a week at the Mercy Health – Springfield Physical Medicine and Rehabilitation. With the support of the therapy team, his wife, son and fellow firefighters, he's doing much better. He's driving now and can walk at full speed without losing his balance.
While Rob knows others have suggested he consider retirement, he's determined to continue his improvement to point that he could return to work if wants to.
In the meantime, Rob has adopted a refreshing new mindset.
"It's changed the way I think," he shares. "You think nothing's gonna happen; like you're invincible. I'd tell people to take time and visit relatives, do the things you've been putting off because you just don't know when something could happen! We've visited family that I haven't seen in 20 years. We're going to do reunions now because of this —we all used to get together as kids and then we got busy with life. Not anymore!"
Rob adds, "and I'm going to come surprise the folks on the ARU so they can see how well I'm doing. It's amazing."
This holiday season, we are celebrating by spreading the good news! Read more thankful stories, like this one, that feature our team members, patients and the wonderful communities we are blessed to serve.
Also, learn about the rehabilitation and physical therapy services we provide at Mercy Health.