January is Human Trafficking Awareness Month, and to help educate the community about the topic and raise awareness about the resources available, Mercy Health – Toledo hosted its inaugural Human Trafficking Awareness Conference on Wednesday, January 15, 2020.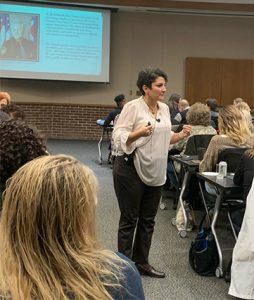 Approximately 100 people gathered in attendance of the event, to listen to a variety of featured speakers who have a direct impact in prevention, education, advocacy and rescuing victims of the human trafficking industry.
The conference was led by the Mercy Health – Toledo Trauma Recovery Center, a grant-funded program that specializes in helping victims of human trafficking, assault, stalking, or other violent crimes and took place at Mercy Health – St. Vincent Medical Center's main auditorium.
"Many people do not realize how big the human trafficking industry is. People are affected by it every day," said OraLee Macklenar, Supervisor of Mercy Health – Toledo Trauma Recovery Center. "It can happen to anyone, anywhere, at any time. So, by educating yourself on the topic you can protect yourself and others."
Sherriff John Tharp and D.A.R.T. opened the conference with a discussion about what human trafficking is, and its correlation with the opioid epidemic and runaways. In 2017, an estimated 1 out of 7 endangered runaways reported to the National Center for Missing and Exploited Children were likely child sex trafficking victims.
The D.A.R.T program officers have engaged over 2,500 overdoses since it started, and have been successful in linking 1,601 of them with treatment – a 78 percent success rate. Mercy Health is proud to contribute funding and a Mercy Health Police Officer to the D.A.R.T program, especially since its success is linked to the health of the Toledo community.
"This epidemic doesn't discriminate against race, age, gender, social status…it truly affects the entire community," says Sgt Steve Rogers, who leads the D.A.R.T unit.
Tamme Smith, D.A.R.T advocate, defined human trafficking as follows:
"When a trafficker exploits a vulnerable person by using force, fraud or coercion to make that person perform sex or labor."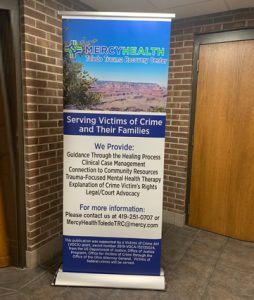 Other speakers at the event included Dr. Celia Williamson of the The University of Toledo's Human Trafficking and Social Justice Institute and the Lucas County Human Trafficking Coalition.
"This is human trafficking month and so we're going to be talking about how trauma affects human trafficking victims. and every single victim of human trafficking has suffered horrific trauma sometimes chronic and complex problems, both health problems and emotional and mental problems occur because someone has gone through the tragic experience of human trafficking," says Dr. Williamson, in an interview with 13abc.
Dr. Williamson is nationally recognized for her research efforts and is considered to be the 26th most influential social worker alive today and has been in practice for over 25 years. Her book, A Seat at the Table: The Courage to Care about Trafficking Victims, is available and focuses on her life as an anti-trafficking advocate.
"This is a topic that makes people uncomfortable, and we know how sensitive it is. However, it is also a conversation we want people to have. We want to help everyone fully understand the reality of the situation," said Charnique King, Coordinator of Community Outreach and Victim Advocate at the Mercy Health – Toledo Trauma Recovery Center.
If you or someone you love is a victim of human trafficking, call the National Human Trafficking Hotline, 1-888-373-7888 or text "HELP" to 233733. For emergencies, call 9-1-1. 
The Mercy Health – Trauma Recovery Center is located in Mercy Health – St. Vincent Medical Center. For questions, contact the TRC team at 419-251-0707.