In October 2020, Rob Dunbar began experiencing flu-like symptoms. His primary care provider initially diagnosed Rob with pneumonia and sent him home with medication. However, a week later the 50-year-old went to an urgent care location where an EKG confirmed irregularities with his heart. He was then transferred to the hospital for evaluation.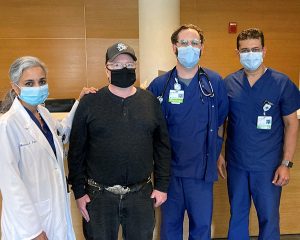 Since Rob had been exercising and eating healthy in recent years, he never imagined he would develop congestive heart failure. However, that's exactly what had happened. Rob arrived at Mercy Health – West Hospital very sick and in need of immediate attention.
"The emergency room in an expeditious fashion evaluated him very thoroughly and got all the significant parties involved," says Manisha Patel, MD, one of our cardiothoracic surgeons. "Then it was the cardiologists Dr. Verma, Dr. Desai and Dr. Raskin who quickly diagnosed the problem with Rob's heart. The squeezing function was very poor, and Rob's heart was extremely weak."
When our physicians performed a catheterization, they discovered severe three vessel coronary artery disease. They also found that Rob's ejection fraction, which measures how much blood the heart pumps as a percentage, was a dangerously low at 10%.
Doctors placed an intra-aortic balloon pump in Rob to help his heart pump more blood. However, within hours they recognized that his heart needed more help to work efficiently. Interventional cardiologist Anil Verma, MD inserted the Impella CP® heart pump to support Rob's weak heart before he underwent surgery to treat his heart disease.
"The Impella device supported Rob's heart until we could get him stable enough to be able to go to the operating room," shares Dr. Patel. "The better the shape the patient is in going into the operating room, the better the body can withstand what truly is a very stressful procedure."
After four days on the device, Dr. Patel performed quadruple bypass surgery on Rob.
"The surgery was a five to six-hour endeavor," Dr. Patel recalls. "The whole operating room team, including the anesthesia staff, did an incredible job of taking care of Rob so that my focus could be on his heart."
Three days after the surgery, Rob's condition deteriorated and he was in cardiogenic shock. This is a serious condition that occurs when the heart is unable to pump enough blood and oxygen to support the brain, kidneys and other vital organs.
"We realized that the support he was getting through the device would need to be augmented. For the first time at Mercy Health, we used the larger Impella device, which provided Rob's body with maximal heart support, giving him some time to heal," says Dr. Patel.
Rob's care team escalated him to the Impella 5.5® with SmartAssist® heart pump to allow Rob's heart more time to rest and recover. After 11 days of support, Rob was weaned from the Impella® and doctors removed the device.
All in all, Rob spent a total of 32 days in the hospital. Today, he is completing cardiac rehab. However, last month, Rob found some time to reunite with the West Hospital care team that saved his life.
"I wasn't scared throughout much of the process," Rob shares. "I just trusted where I was. The staff here gave me the confidence they could take care of it. Everything that they did here, they explained to me and my sister. I didn't feel like I didn't know what the plan was. They told me what they needed to do and why. I made the right choice and picked the right hospital to come to."
Rob continues to recover and recently drove his motorcycle for the first time since his heart event.
Learn more about the heart and vascular services we offer at Mercy Health.