Tami Halcomb had her first mammogram when the Mercy Health Mobile Mammogram Unit came to the parking lot of her workplace. Since then, she has made her annual mammogram a priority.
On February 6 of this year, Tami went in for yet another mammogram at Mercy Health – Fairfield Hospital as a part of Mercy Health's "I Know" Program. Tami mentioned to the mammography technologist, Dottie Meehan, that she always gets anxious waiting for her results.
"Dottie then asked me if I wanted to wait in the office for my result. I had no idea that was even an option," shares Tami.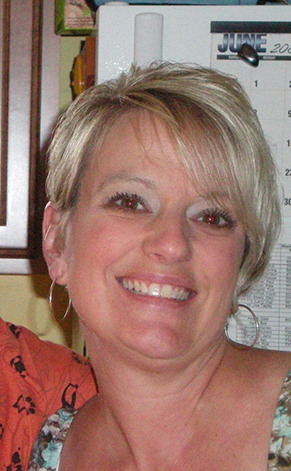 After an initial review of Tami's scans, the radiologist, Amy Argus, M.D., decided she wanted to see more images.
"So, I went back in two more times for additional pictures," Tami says. "You can imagine at each turn and with each test my anxiety level increased."
Steven Schur, another technologist, completed an ultrasound during this follow up imaging. Tami also shared how nervous she was with him.
"He talked about his children and how he explained everything was so calming," Tami recalls. "He never left me longer than five minutes and updated me on when Dr. Argus would be available."
When Dr. Argus entered the room, she shared with Tami that she would need a biopsy.
"I cannot begin to tell you the fear I felt," says Tami. "However, I was promptly introduced to Judy. Oh my, what an angel."
Judy Brandell is one of Mercy Health's Nurse Navigators who help patients through their pre-cancer screening and treatment process.
"To have this person that makes you feel like you are her only concern, even though she is busy with many other patients… I felt like Judy swooped in and just took over," Tami shares. "She helped me and understood my fears."
Judy was even able to get Tami's appointment scheduled for that same day. Returning that afternoon with her husband, Tami underwent a biopsy.
"I will never be able to thank her or to express my gratitude for having that comfort."
Tami remained in contact with Judy throughout that afternoon and evening, and Judy constantly answered questions and offered support. The following day, Judy called to share that the pathologist had discovered a preliminary finding: no evidence of cancer.
While Judy explained this was not the final answer, she emphasized she would be there to support Tami throughout the weekend until final results were back. Eventually, Tami did have a pre-cancerous finding removed.
After this whirlwind experience at Mercy Health, Tami wrote the following letter to share her gratitude:
"I am telling you all of this because I am certain I am not alone. I am certain this is done for all of those women like me, and for those brave women who are faced with the news I was so afraid to get. [Judy] does this every day, they all do, and I am sure they have some bad days. I want them and you to understand how much stress they were able to take off of me. For a bad day, they made it as good as it possibly could have been. They are so valuable and clearly called to what they do. 
So, thank you. Thank you for taking the time to read this, please be proud of them all, please value them, they are all gifts. I am not doubting that you value them, but just want to give a reminder. Had I had a horrible experience, I would have been quick to report that to you. I thought this deserved the same. I still have a little ahead of me, but I feel so comforted knowing the staff I will deal with going forward."
Learn more about breast health services available at Mercy Health.