In late 2019, Stacey Bailey, a high school gymnastics coach undergoing treatment for stage four breast cancer, started having what she thought were minor vertigo attacks.
"They happened monthly for a couple of months. But then, in late February, I had one that was so severe that I had to go to the emergency room," Stacey reveals. "That day was awful. It started early in the morning. I kept thinking it would get better, but I couldn't even sit up."
Stacey sent her daughter to school and then a squad transported her to the emergency department at Mercy Health – Anderson Hospital. Meclizine, which is used to treat dizziness caused by vertigo, initially helped get Stacey's symptoms under control.
At stage four, breast cancer metastasizes, or spreads, to other parts of the body. Stacey's tumor markers had been inching up but the spreading her care team was monitoring in her cervical and thoracic spine were relatively stable. Other than the dizziness, Stacey felt fine.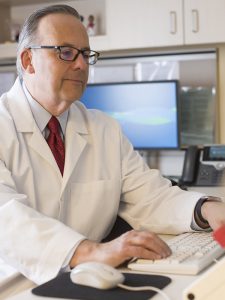 However, the severe dizziness was a sign that her cancer had spread further. Stacey's care team scheduled a brain MRI for her the following week.
"The MRI showed a pea sized tumor in my cerebellum," says Stacey.
The cerebellum is the part of the brain responsible for functions including balance and coordination, which explained why the tumor was causing such debilitating symptoms.
Stacey's radiation oncologist, Marc Mosbacher, MD, referred her to the Gamma Knife team at The Jewish Hospital – Mercy Health. On March 9, 2020, Stacey underwent Gamma Knife radiosurgery to treat her brain metastasis with Dr. Mosbacher and  Ronald Warnick, MD, (pictured left) a neurosurgeon with Mayfield Brain & Spine and co-director of the Gamma Knife program at The Jewish Hospital.
The Gamma Knife is an advanced brain surgery tool that performs stereotactic radiosurgery, delivering high-energy rays from the machine to one or more tumors without the need for an incision. The radiation beams are precisely aimed, destroying tumors but sparing healthy tissue nearby. Patients, like Stacey, usually go home the same day.
"It's amazing. It's kind of superhuman. It really was kind of a fascinating experience," says Stacey of the 25-minute Gamma Knife procedure she underwent. "The staff and the nurse were wonderful, Dr. Warnick is fabulous."
"Occasionally, I still experience a small sense of vertigo which may be linked to some dehydration and stress," Stacey adds. "But I have a follow up brain MRI every three months and my scans have showed no regrowth or tumors."
Learn more about the Gamma Knife radiosurgery services we offer at Mercy Health.