Lynn Caskey has always been an active person. Exercise is part of her daily routine and she spends as much time with her grandchildren as she can.
A recent stumble on the stairs resulted in a bad break in her foot. Lynn knew she needed proper treatment in order to get back to her active lifestyle. Two days after her slip, she sought out Clay Carmody, MD, Mercy Health orthopedic foot and ankle specialist.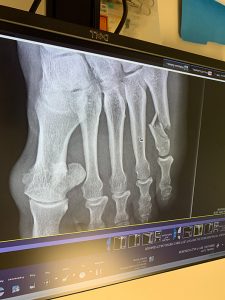 "I was just so impressed. Dr. Carmody made everything sound simple so it was very easy to understand," Lynn shares.
Lynn broke her fifth metatarsal, which is the bone along the outside of the foot. Like with all his patients, Dr. Carmody talked with Lynn about her options and which one would be best to help her heal.
While Lynn's injury was common, Dr. Carmody shares that every situation is different, and that he tailors each treatment to the individual patient. This includes taking into account the patient's activity level, medical problems that may delay healing, any surgical risks and the details of how the broken bone looks in an x-ray.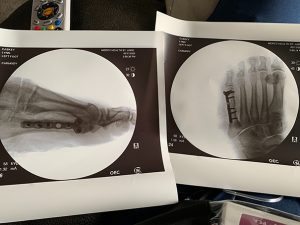 In Lynn's case, the pair decided that surgery was the best course of action.
"Lynn was definitely someone who would benefit overall from having her fracture fixed," Dr. Carmody shares. "I do not think she would have healed as well without surgery. Putting her bone back together surgically is what helped give her a good outcome."
Dr. Carmody performed an open reduction internal fixation on Lynn at Mercy Health – St. Anne Hospital. This procedure involves fixing the bone with a plate and screws. Lynn went home that day.
"It was just a great experience," Lynn recalls of her surgery. She also notes the nursing staff was top notch.
Soon after her surgery, Ohio issued its stay-at-home order for COVID-19. Lynn's follow up appointments were held while these restrictions were in place. She shares she was impressed with the communication from the Mercy Health team. She felt that she knew exactly what to expect during her appointments.
Today, Lynn's foot has healed! She was off her crutches by the end of March. After another month of healing, she was back to her active lifestyle.
Learn more about the orthopedic and sports medicine services offered at Mercy Health.