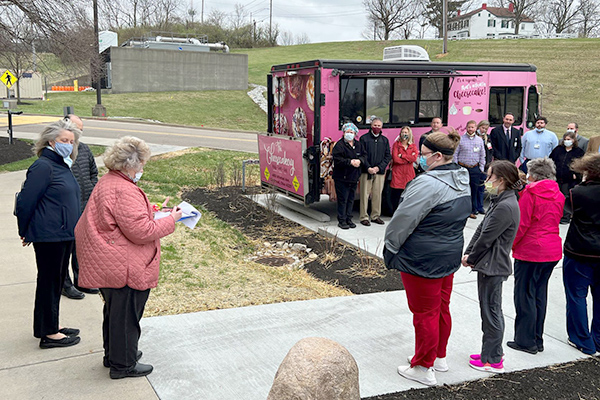 Thanks to the generosity of donors, Mercy Health – Fairfield Hospital recently added a food truck patio to its campus for all our team members to enjoy special treats.
Tom and Nancy Urban, Dr. Greg and Kim Colangelo, Dr. Kevin and Bobbi Cochran and the Molson Coors Beverage Company gave a total of $40,000 to build the patio and underwrite the cost of trucks bringing in treats. The patio has electric and water hookup. It is also located in an area accessible to staff, ensuring that main entrances and the loading dock remain free and clear for patients, visitors and deliveries.
Back in April, the hospital's chaplains blessed the patio and recognized the donors who made it possible during a special event. Then hospital team members enjoyed baked goodies from the first food truck to use the patio – The Cheesecakery.
"We all know that meals and snacks provide a way for our staff to get out of the hospital and catch their breath," Liz Mohr, chief operating officer at Fairfield Hospital, shares. "We were blessed to have our donors so graciously provide the funding for all of our staff to enjoy this food truck patio."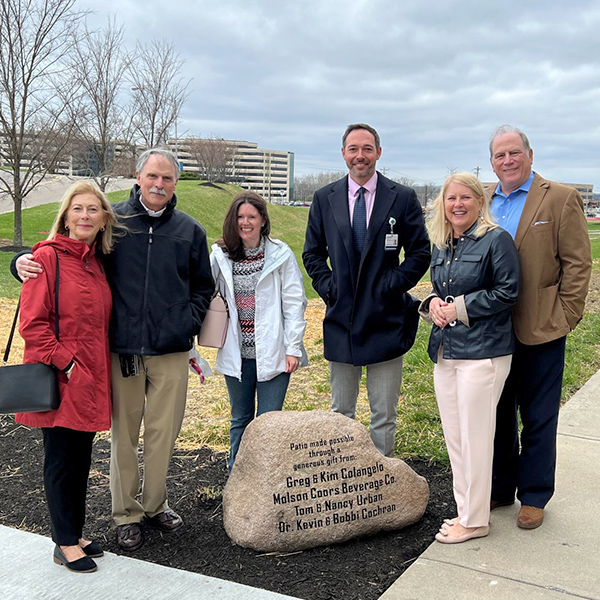 "COVID-19 changed so much about medicine, but one good thing was that we got to see up close how hard everyone worked and pitched in when things were the worst," Gregory Colangelo, MD, a pulmonary critical care specialist at Fairfield Hospital and one of the patio donors, adds. "We overcame, adapted and evolved. It truly takes special people to do this work. Kim and I were honored to be able to contribute and say thank you to so many who gave so much to our patients and community."
Additionally, Mandi York, senior administrative assistant at Molson Coors Beverage Co., shares, "we want to be fully engaged with our hometown communities. We wanted to support and celebrate the health care professionals that have acted as the heroes of the COVID-19 pandemic. This was our way of giving back and saying thank you for all of their hard work and dedication."
Fairfield Hospital plans to host food truck visits quarterly to treat team members.
Learn about the health care services we offer at Mercy Health.