(Pictured above, left to right, Tina LeFaive, Faith Community Nursing & Health Ministry Coordinator, Marcey Langford from Church of Jesus, Tina Cotto from Clifton Avenue Church of God)
With each passing day, it becomes more important for us to live out our mission by providing high-valued health care to our patients and surrounding communities. Helping to make our communities healthier means extending this care beyond the walls of our facilities.
This belief has inspired the Faith Community Nursing and Health Ministry Program (FCN&HM), a program designed to bring hope and healing to members of the community.
FCN&HM was envisioned through collaborations and partnership between our ministry and Clark County Combined Health District in 2019. With roots in the Catholic model of parish nursing, FCN&HM was intended to be more flexible, based on the gifts and needs of the faith community it's planted within. In 2020, our ministry's foundation funded FCN&HM with a Mission outreach grant for our Springfield market.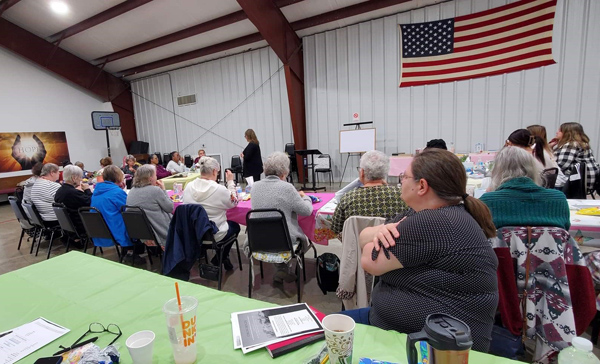 "The idea was to break down the traditional walls of health care and bridge community gaps through authentic, faith- and community-based partnerships within church," Carolyn Young, director of community health for Mercy Health – Springfield, explains.
Due to the COVID-19 pandemic, the program started off slowly, but it didn't stay that way for long.
What began as a relationship with five churches has now grown into 11. The goal of the program is to provide churches with a voice for their concerns, a space to express them and good information to pursue whole-life health and healing. Creating connections with local community non-profits, social services, health departments as well as visits from health care professionals and Springfield Fire and EMS has opened the door to authentic relationship building along with a source of good health and wellness information for the people of the church to access on a more personal level.
As a domestic abuse survivor, Elaine Young realized this was a gap at her church. Realizing the church was not yet equipped to tackle the topics of overcoming abuse and mental health, she and a good friend started "women at the well." Their goal was to bring healing to those around them, not just physically, but emotionally and spiritually as well.
To their delight, it wasn't much later they discovered FCN&HM. It was the perfect opportunity to expand upon what they'd already started and bring healing to even more people in need.
"Since the introduction of Faith Community Nursing and Health Ministries, the people of my church have grown tremendously," Elaine shares. "Many of us now realize that we all have had hurts and disappointments in life. There is no shame in sharing, and there is more unity among us."
Since the addition to her church, many have shared great moments and healing experiences together – creating a shared sense of community and support that keeps it going.
"My favorite part of the program is the fellowship with people outside the four walls of the church. It allows us to grow and connect with one another on a deeper level," Elaine adds. "The compassion of the program leaders stands out to me. Their support and commitment are huge."
There are many plans for the future of FCN&HM. In 2021, our foundation received an expansion grant that will allow for continued support of the program. The Nehemiah Foundation has also joined as a partner, allowing for the creation of "Pursuing Wholeness: Mental Health & The Church." This will offer even more trauma-informed mental health education to the participating churches.
"Our goal is to equip the community with capacity in new ways," Carolyn shares. "To find partnership within the local church is such a natural connection. Through partnerships and collaboration, we are united in our care for the mind, body, soul and spirits of the people in our community and in their congregations. It is our desire to come along side to support and to respond, as Jesus did. With the church at the center, and the Holy Spirit as the guide, we are far better equipped together, through authentic, trusting relationships."
Through the work of the Faith Community Nursing & Health Ministry, both Elaine and Carolyn have seen it bring new resources, relationships, connections and healing to many. They hope in the future the program will continue to expand throughout the community.
Learn more about our mission programs at Mercy Health.