According to the National Institute of Aging, loneliness acts as a "fertilizer for other diseases" and promotes several different types of wear and tear on the body.
"Loneliness can accelerate the buildup of plaque in arteries, help cancer cells grow and spread and promote inflammation in the brain leading to Alzheimer's disease," their study says.
Other research links loneliness to high blood pressure, heart disease, obesity and cognitive decline. While caregiving and volunteering can provide interaction with others, these activities can be hard for seniors who may face mobility or transportation issues.
However, research from the University of Rochester Medical Center in Rochester, NY suggest another alternative. They found that seniors living with a pet are 36 percent less likely to report loneliness. In this study, seniors caring for a pet reported decreased feelings of social isolation and increased feelings of social connectedness.
While science supports elderly pet ownership, you don't need a study to see the benefits. Just ask Sandy Chinn, Director of Resident Services at Mercy Health – Oakwood Village in Springfield, Ohio, a dog-friendly senior living community.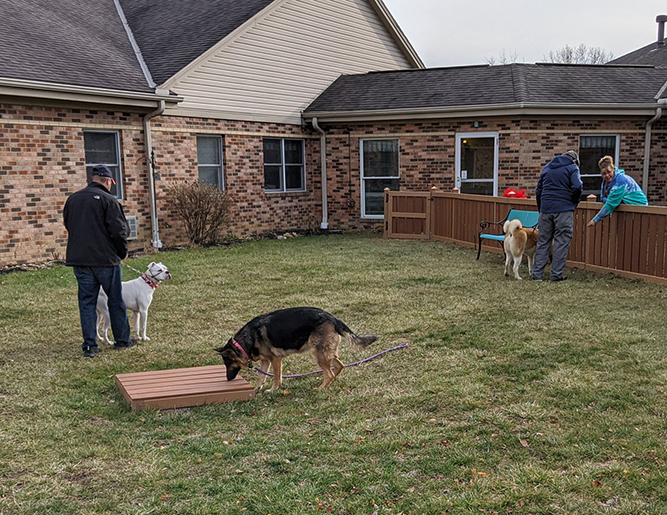 "Our residents with pets walk more steps each day since they take daily walks outside with their dogs," Sandy shares.
"Pets also help keep the owner on a schedule and a daily routine, including getting up to take the dog out, feeding time and play time. Residents also socialize more with others since everyone stops to pet and talk with their animals."
Thanks to the generous support of Best Friends Assisted Pet Therapy, Fulton's Finest 4H Club and the residents as well as friends of Oakwood Village, the community recently built a new dog park for residents and their pets to enjoy.
The dog park accommodates a variety of mobility aids and is accessible from two locations within the main residential building. Not only does the park provide a place where residents can let their dogs exercise, it also gives residents the option to adopt a dog and provides a reunion space for residents who may have had to leave their pet with family members when relocating to Oakwood Village.
"The dog park brings so much joy," says Annette Turner, executive director at Oakwood Village. "Even if residents can't have a pet themselves, the central location of the dog park makes it easy for residents to socialize with their neighbors' dogs and watch the dogs play."
Learn more about the health care services offered at Mercy Health.