Lynne Eaton, M.D., is a palliative care consultant and the leader of palliative care services at Mercy Health – Springfield Regional Medical Center. She works with patients who have chronic and/or life-limiting conditions, as well as their families.
"While palliative care is part of hospice care, it is not end-of-life comfort care. As a palliative care consultant, I can see people at the beginning of their diagnosis and follow them through their journey," she says.
Dr. Eaton helps patients with medical decision making and setting their care goals. This means determining what is most important now that their life has changed due to illness.
"Coming to a consensus on the goals of the patient's care is important," says Dr. Eaton. "What are the things that the patient and family want with their health care and what don't they want? When possible, I like to get involved early to have these discussions about available treatment options and how aggressive they want to be."
As a team, they work on symptom management and dealing with complications such as pain and shortness of breath. Dr. Eaton also helps with decision-making around quality of life issues, living wills and advance directives. Her goal is to make sure her patients' quality of life is as good as it can be during their time in her care.
Helping Dr. Eaton with that task is Burbank, a friendly black lab who loves people and is always up for a tummy rub.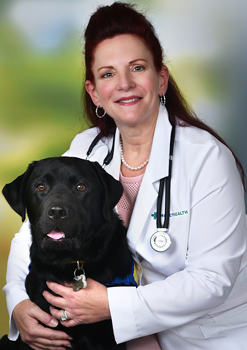 Burbank is a service dog in training with Canine Companions for Independence®. Founded in 1975 in New Albany, OH, Canine Companions for Independence® is a non-profit organization that enhances the lives of people with disabilities by providing highly trained assistance dogs among other services.
Dr. Eaton learned about Canine Companions for Independence® several years ago. As an avid dog lover, she volunteered to help raise puppies for the organization.
"I thought, 'what a great way to give back to the community," she recalls. Within eight weeks, she was raising her first puppy.
Burbank is her third dog and she started raising him when he was just two months old. This month when Burbank turns 18 months old, he will return to Canine Companions for Independence®. There he will complete advanced training for six months before he's assigned to his person.
"That's the worst part," says Dr. Eaton. "I cry and cry when the dogs go back."
Until then, Burbank is learning the ins and outs of hospitals. He visits with palliative care patients and families twice a week, completing rounds alongside Dr. Eaton.
"I bring him in for two reasons – it helps him in his career and it helps patients and staff to have a dog here," says Dr. Eaton. "It's a loving experience for staff and patients. While he's learning and getting used to different surroundings, he's bringing joy to patients, their families and the many people caring for them."
Burbank also brings a lot of health benefits with him during his visits.
"There's literature to support how dogs help lower blood pressure and heart rate," Dr. Eaton says. "You can see people visibly relax when he comes by. There's a physiological and mental component to interacting with animals."
The relief that Burbank brings is particularly welcomed by Dr. Eaton's patients and their families.
"Once, I was talking with a family in a difficult situation in the intensive care unit," she says. "The patient had a dog like Burbank at home. Burbank put his paws on the bed. The patient's wife then helped put her husband's hands on Burbank and Burbank licked him. They were overwhelmed to have him there and said how nice it was."
In another instance, Burbank was in the room alongside a patient's family during a compassionate extubation procedure to relieve the patient's suffering. They noted how helpful it was to have Burbank to pet during the experience.
"My goal is to have a dog with me in palliative care all the time," says Dr. Eaton, who's already signed up to train her next dog. "They really makes a difference in people's lives."
Learn more about the hospice and palliative care services available at Mercy Health.