Meet Aimee Kuhlman, director of EVS linen and patient transport at Mercy Health – St. Rita's Medical Center! Aimee's entire career in health care has been with our ministry serving at St. Rita's.
"My job definitely varies from day to day," Aimee says. "From daily huddles with the house keeping staff, many different committee meetings, quality rounding and running our Project SEARCH program, every day at work for me is different."
However, there is another role Aimee serves in that is near and dear to her heart.
"I also lead our breast cancer support group," she shares. "We meet the first Thursday of every month, and I've been leading the group for about a year now."
The reason Aimee is so passionate about this support group is because she was diagnosed with breast cancer in April of 2021.
"I found out I had breast cancer on April 15, and then had a mastectomy in May of 2021," Aimee shares. "In November of 2021, I had radiation treatments, 30 rounds of it, that lasted through December of that year."
After that, it was six rounds of chemotherapy and a full year of targeting drugs through May of 2022.
"All of this was happening during my daughter's senior year of high school," Aimee shares. "However, I refused to miss any of her volleyball games because of my treatment, and I didn't."
Aimee also continued to work during this time, besides having to take every third Friday off during her chemotherapy treatment.
"During radiation, since I was getting my treatment at St. Rita's, I would just walk over to the cancer center for treatment and then walk back to my area," she says. "Luckily, I had very minimal side effects from all the treatment compared to most. I did lose my hair but I'm getting some of it back now."
In June of 2022, Aimee was finally finished with her treatments.
"When you get to the end of treatment, it's weird because you are so consumed with doctor's appointments and then it goes to nothing," she explains.
However, before her treatment was complete, Aimee had an experience that ended up staying with her.
"I was receiving treatment one day and was overhearing other patients talking about having to wait to hear about test results while being worried," Aimee shares. "One patient even described waiting as feeling like 'a week seemed like a year.'"
After her treatment was completed, Aimee made a promise that she was going to do something to help others fighting the breast cancer battle.
"My kids are all grown now, but I've always tried to teach and show them that you should always help others and do the right thing," she says. "I took this same approach with my breast cancer diagnosis and told my kids that this happened to me for a reason."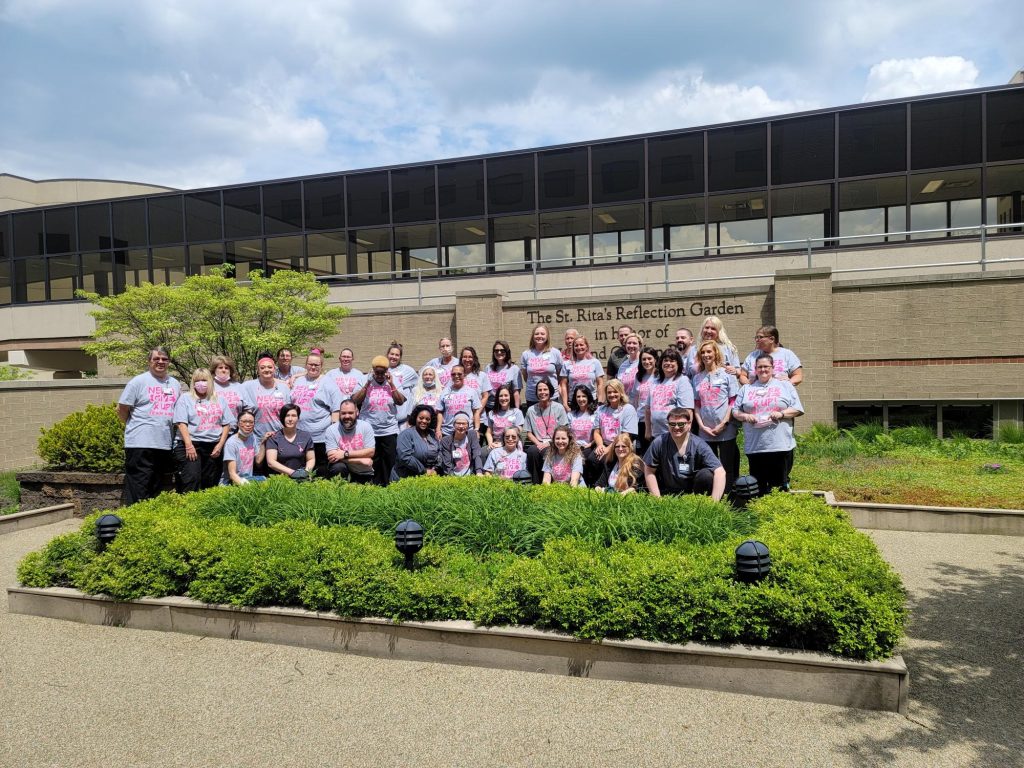 Because she saw there was a need for support, as well as because of her drive to serve, it was then that Aimee decided to start St. Rita's Breast Cancer Support Group.
"Our support group is open to anyone in the community," Aimee states. "Survivors, those currently going through treatment and recovery, anyone. In fact, we have some ladies that come regularly and are several years out from their treatments."
During their meetings, the group has discussions about what's going on in their lives and lean on each other for help. Aimee also always tries to have a guest speaker come for part of the meeting to teach the ladies something that might help them on their journeys. Past speakers have covered topics such as laughter therapy, exercises that are not as impactful for someone going through treatment as well as journaling.
"Sometimes the group is small, sometimes it is big, but the meeting is always worth it," Aimee shares. "And I want to make sure everyone is getting something out of it."
As for when Aimee is not busy serving in all her important roles at St. Rita's, she has many hobbies that she enjoys.
"I love going camping, boating and reading," she shares. "In fact, I read a lot – fiction, non-fiction, self-help books, I love them all!"
Aimee also enjoys listening to music, especially while walking on the treadmill for exercise.
"Country is my favorite genre of music, and Luke Combs is my favorite artist right now," she shares. "But there are a lot of different types of music that I enjoy. I listen to a little bit of everything."
Learn more about breast cancer and the breast cancer care services we offer at Mercy Health.