While many who test positive for COVID-19 recover without lingering symptoms, some individuals have been dealing with the long-term effects of their illness for months afterwards. Health care professionals are now referring to this group as "long-haulers."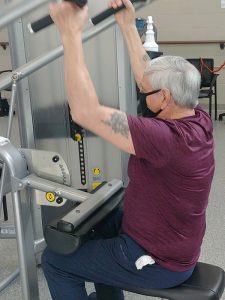 After being diagnosed with COVID-19 in January 2021, Tony Rangel spent 10 days in the hospital. When he was discharged, he went home with something he hadn't come in with – an oxygen tank.
"I went home on oxygen, but I knew I didn't want to spend the rest of my life on oxygen," he shares.
Tony isn't alone. Like many health systems across the country, we at Mercy Health are seeing more patients looking for help to address persistent symptoms faced during COVID-19 recovery.
"Our program and others like it are seeing more post-COVID patients or 'long haulers' who are struggling to regain their energy and stamina and return to normal activities," says Ryan Kocsis, manager of respiratory and biomedical services at Mercy Health – Lorain Hospital. "Through pulmonary rehab, we can improve their breathing mechanics as well as their quality of life through education and emotional support."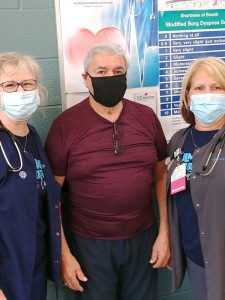 After trying some exercises at home, Tony decided to give our pulmonary rehab program a try. Therapists worked with Tony using specific breathing exercises and a progression of aerobic exercise to help him recover.
"When I started therapy, I was on oxygen 24/7," Tony recalls. "Today, I'm off oxygen during the day. I'm able to do yard work, run the vacuum, and other things I didn't think I would ever do again."
Huge congratulations are now in order for Tony. Since this interview, he has been working hard in rehab and is now completely off oxygen!
If you or someone you know is still experiencing symptoms months after being diagnosed with COVID-19, contact your primary care provider.
Getting vaccinated for COVID-19 is the best way you can avoid severe illness and protect those around you. Learn more about our COVID-19 vaccine efforts.