Congratulations to 86-year-old Veronica Bachmann on recently receiving her COVID-19 vaccine at Mercy Health – St. Vincent Medical Center! Hear her firsthand thoughts on why she decided to get vaccinated.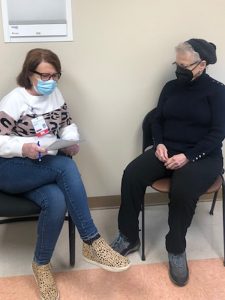 I decided to get my COVID-19 vaccine because it was the safe and right thing to do for myself, for my family and for anyone whom I might come in contact with. I am so excited to eventually be able to hug and kiss my son, Joseph, daughter, Shawn, grandkids and other family members again.
The vaccine experience was rather pleasant. My daughter made the arrangements and insisted on taking me to my appointment. It was wonderful having someone so concerned. The entire process was so well coordinated.
I am a retired nurse, so I have given and received many vaccines in the past. I was happy to receive this vaccine since I know what protective benefits it offers. The nurse administering the vaccine was very efficient and personable.
It is important for others to receive their vaccines when the opportunity comes. It will not only protect them, but others too. Preventing others from getting this virus will help keep our world healthier and happier.
LET'S DO IT!
To learn more about COVID-19 vaccination, visit the CDC's website.
Also, stay updated on what Mercy Health is doing related to COVID-19.