During the current COVID-19 outbreak, most assisted living facilities are under temporary visitor restrictions in order to keep everyone safe. However, these restrictions are challenging because residents are no longer able to visit in-person with their family and friends.
At Mercy Health – McAuley Senior Living Center in Urbana, OH, one of our team members has been taking matters into her own hands. Tonya West (far left in the above picture), director of resident services at the center, has come up with creative ways to keep residents connected with their loved ones during this pandemic.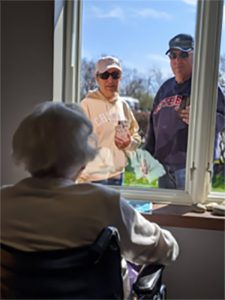 Tonya first began scheduling window visits so residents could see their families. She created a sign for the visiting window that reads "you are my sunshine, my only sunshine." Residents talk to their families by phone as they look at each other through the glass.
With schools now closed, Tonya also reached out to a local school system in Champaign County to see if there were any laptops the facility could borrow. With the laptops, she hoped resident could video chat with family members or simply watch a movie. After purchasing new computers for their students, one school donated 22 of their older laptops for the residents to enjoy!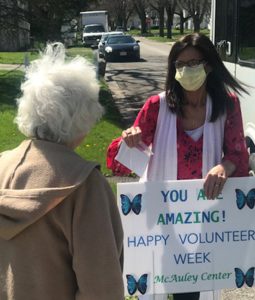 Tonya has also come up with other ways to keep residents busy and make them feel special during these difficult times. The center started playing bingo and trivia games in the hallways and has developed various art projects. For Easter, they set up an outdoor photo shoot so residents could take photos to send to their families with a special note. The shoot was complete with decorations and an Easter basket. The center is planning to do something similar for Mother's Day coming up.
Linda Dean who works with Tonya states, "she is always finding ways to make us as employees smile and our residents always feel good about their day. She always lets them know she will do anything she can to make their day special."
Stay updated on what Mercy Health is doing related to COVID-19.