From cancer to COVID-19, Kelly Walker has recently had a longer health journey that she ever expected. Thankfully, our team at Mercy Health – Lourdes Hospital was by her side every step of the way.
Before coming to Lourdes Hospital, Kelly, 58, (pictured above with her family) was diagnosed with anaplastic thyroid cancer, an aggressive and rare type of cancer.
"When I was diagnosed in January of 2021, I was given six months to live," Kelly says. "I had a radical surgery in February of 2021 which led to a laryngectomy, removal of my larynx or voice box. Now I have to speak with an electrolarynx."
Anaplastic thyroid cancer tends to grow and spread quickly within the neck as well as grow to distant parts of the body. It's crucial that patients with this cancer receive a diagnosis and start treatment as soon as possible.
After her surgery, Kelly continued receiving post-operative care. Through word of mouth in her community she received numerous recommendations to see William Skinner, MD, (pictured in copy) one of our oncologists and hematologists.
"He had such a good reputation, so I decided to schedule an appointment," Kelly shares.
Today, she's glad she did.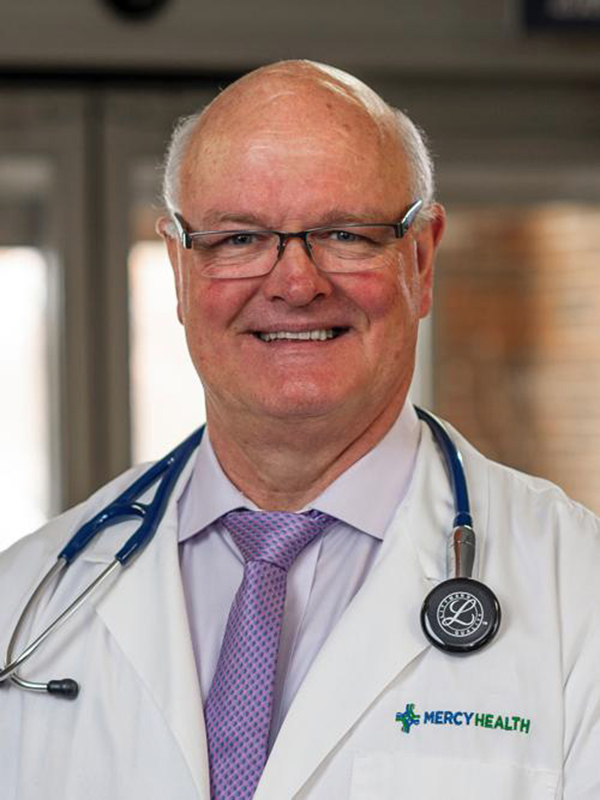 "Dr. Skinner is an outstanding oncologist," she raves. "He also excels in collaborating with other cancer centers to bring the best treatments possible to patients at home. Because of his knowledge and excellent skills, I chose Mercy Health. I also know many people on his staff and knew I would receive the best care."
Kelly continues, "what stands out is the quality of medical and emotional care I received. The Mercy Health team explained everything, so I understood what was happening with my body. Everyone was always so positive, it made me less worried. I also appreciate that Mercy Health's doctors are willing to work with major cancer centers, such as MD Anderson Cancer Center (MDACC), so I can receive my treatments at home."
Kelly is still undergoing treatment at Dr. Skinner's office with Keytruda immunotherapy for maintenance therapy. Recently, while receiving this immunotherapy, Kelly was also diagnosed with COVID-19. Fortunately for her, our Lourdes Hospital team was prepared for her unique situation and treatment plan.
"My care team responded quickly and got me the proper treatment I needed so my symptoms did not get to a dangerous level," Kelly shares. "They made me feel comfortable. I knew I was in good hands."
Kelly wants to thank Dr. Skinner and his entire staff for the positive and excellent care they provide. Today, she is proud of her journey and is doing well at this point with no evidence of disease.
Learn more about the cancer care services we offer at Mercy Health.