For Cynthia Fagin, every breath was a struggle due to severe chronic obstructive pulmonary disease (COPD) and lung issues.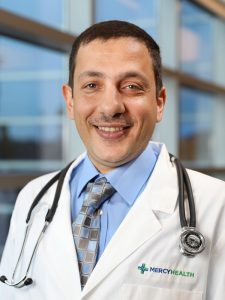 Like many other patients with emphysema, a severe form of COPD, air becomes trapped in the parts of Cynthia's lungs that are damaged by the disease. This trapped air causes the damaged areas of the lungs to get larger, which puts pressure on the healthy parts of the lungs and diaphragm. All of this leads to extreme shortness of breath that makes normal activities like walking, eating or even bathing difficult.
"I went longer than I should have without getting a portable oxygen tank," says Cynthia. "On Christmas Eve a couple of years ago, I couldn't take it anymore. I needed help and I went to The Jewish Hospital."
That's where Cynthia met Mudher Al Shathir, MD, a Mercy Health physician and pulmonary critical care specialist (pictured left). When she asked about different treatment options, Dr. Shathir let her know that something new would soon be available.
"He said there's something called Zephyr Valves that should be here in six months," recalls Cynthia.
Until now, the only treatment options for patients like Cynthia were highly invasive treatments such as lung volume reduction surgery or lung transplants. Dr. Al Shathir didn't think those were good options for her. However, she was a candidate for treatment with the Zephyr Endobronchial Valves.
The FDA approved the valves recently through its breakthrough devices program, which the FDA defines as devices "that provide for more effective treatment or diagnosis of life-threatening or irreversibly debilitating diseases or conditions."
Doctors perform a one-time, minimally invasive treatment via bronchoscopy, which requires no incisions, to place the tiny valves in the patient's airways. The valves block off the diseased parts of the lungs where air gets trapped. This allows the healthier parts of the lungs to expand and take in more air, ultimately helping patients breathe more easily.
Cynthia underwent valve placement in one lung in September 2020. Her oxygen levels improved by seven percent in the weeks following the procedure.
"I had a sore throat after, but recovery was not that big of a deal," she says. "Over the next two months, I got better and felt improvement. I still need to be on oxygen, but now I can do things. I feel better, I'm more energetic, and I can go periods without oxygen. I would definitely recommend this treatment. It was really pretty easy, and it makes you feel better."
Now, Cynthia's considering having the valves placed in her other lung.
"This minimally invasive procedure has the potential to make a difference and improve the quality of life for advanced emphysema patients," says Dr. Al Shathir. "They should talk with their provider to determine if they are good candidates for the procedure and if the valves could be of benefit to them."
The Jewish Hospital – Mercy Health is proud to be the first hospital in Cincinnati to offer this new treatment option for patients with emphysema.
Learn more about the lung care services we offer at Mercy Health.